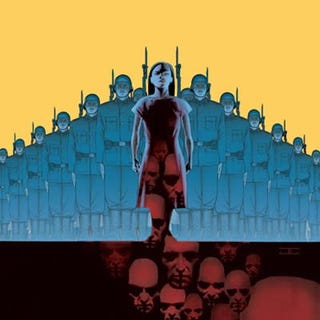 There's no other way to get around it: This is a week where you're going to want to take your wallet to the comic store. There's a lot of good stuff coming out.
Whether it's DC Comics relaunching the Legion of Super-Heroes with a reprint of their first adventure in Adventure Comics #0, or launching a brand new superhero series with The Mighty #1, it's as if everyone is making an effort in this last new release day before this weekend's New York Comic Con.
Devil's Due's first issue of French WW2 supernatural thriller I Am Legion, Dynamite's debut of equally-supernatural western Dead Irons, IDW's collection of Mirror Universe stories in Star Trek: Mirror Images and Image's domestic superhero Jersey Gods all make their debuts this week, and Boom! have their very enjoyable Eureka spin-off appearing for the first time, as well (we have a preview of that later today, for those yet to be convinced about how it'll work as a comic).
However, it's definitely Marvel Comics who're going all out this week. In addition to the first issues of new anthology title Astonishing Tales, rebooted African royalty superhero series Black Panther, undercover hero series Secret Warriors and (our favorite) superhero spy (well, kind of) book Agents of Atlas — along with a new hardcover collection for the rightly-lauded Captain America: Truth series — the House of Ideas has the debut of Marvel: Your Universe, a new anthology series collecting recent issues of hit series for the surprisingly low price of $5.99. Can it get any better?
Well, yes, actually, it can. Because, even if you ignore all of the above books — although they're all very enjoyable and worth picking up — there is one book hitting stores tomorrow that you should beg, borrow or steal enough money to buy. Yes, tomorrow sees the release of Bryan Lee O'Malley's Scott Pilgrim Versus The Universe, the fifth in the series of his slacker/romance/magic realist/video game/all things awesome stories, and — even though it's only February — it's a fair bet to say that this may be the book of 2009. You know you want it.
There's no way around it; this week's shipping list is going to be a tempting one, and it'll just lead you to find your nearest comic store via the Comic Shop Locator, before eventually leading you to financial ruin. But, with comics like these? It'll almost be worth it.