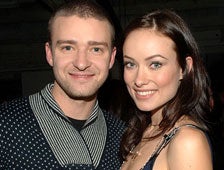 The upcoming I'm.mortal, in which everyone stops aging at 25 but has to pay for each additional year of their life, is making for some wonderfully weird casting...and the latest casting news completely redefines the concept of the hot mom.

The 26-year-old Olivia Wilde is reportedly playing the mother 29-year-old Justin Timberlake's ghetto-dwelling hero, who is forced to go on the run from the law when he's accused of killing a rich man for his time.
Amazingly, that still isn't the most preposterous age difference between on-screen mothers and sons. Laurence Olivier's 1948 Hamlet adaptation starred Olivier in the title role and Eileen Herlie as Queen Gertrude. Herlie was eleven years younger that her supposed son, and they didn't even have rampant immortality as an excuse. Although I think I just came up with an awesome idea for a scifi Hamlet...
[The Wrap]