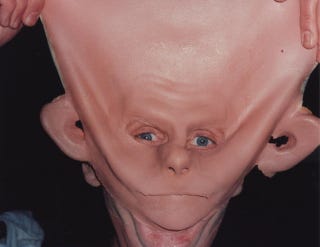 Rene Auberjonois was kind enough to ruin all of our weekends by sharing this photo on Twitter. No Changeling was ever as scary as this.
This is actually in service of a good cause: Auberjonois is raising money for Doctors Without Borders by auctioning off one of his Odo masks:
That tweet touched off an impromptu Twitter Q&A about Changeling make-up, which Auberjonois happily answered: It took two and half hours to apply the make-up, all the Changeling masks were just versions of the Odo mask, and he ripped it off as soon as he could. And he added this:
AHHHHHH! This is the intermediate step between humans as we are now and Doctor Who's Cassandra. What was with this week and terrifying masks?