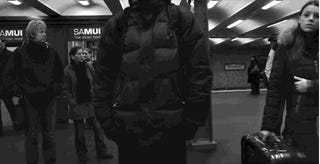 Artist Adam Magyar uses sophisticated software and high-speed camera rigs of his own design to capture beautifully haunting slow-motion footage of commuters, trains and passengers inside NYC's Grand Central Terminal.
Magyar compiled the footage into a 24-minute short film called Stainless. Josh Hammer describes the "long-running techno-art project" in a must-read profile on Magyar and his work, recently published over at Matter:
In a growing body of photographic and video art done over the past decade, Magyar bends conventional representations of time and space, stretching milliseconds into minutes, freezing moments with a resolution that the naked eye could never have perceived. His art evokes such variegated sources as Albert Einstein, Zen Buddhism, even the 1960s TV series The Twilight Zone. The images—sleek silver subway cars, solemn commuters lost in private worlds—are beautiful and elegant, but also produce feelings of disquiet. "These moments I capture are meaningless, there is no story in them, and if you can catch the core, the essence of being, you capture probably everything," Magyar says in one of the many cryptic comments about his work that reflect both their hypnotic appeal and their elusiveness. There is a sense of stepping into a different dimension, of inhabiting a space between stillness and movement, a time-warp world where the rules of physics don't apply.
Magyar's aesthetic is absolutely captivating; if you're into this style of art, you'll definitely want to read up on him and his work.
[Adam Magyar via Matter]