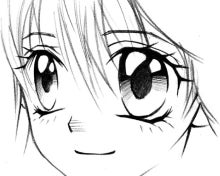 Looking to make mass generalizations about a foreign medium while indulging your relatively minor creative side this weekend? Then the official Star Wars website should be your first and only stop, thanks to their new feature, "Drawing Manga-Style Padme Amidala".
The kid-friendly feature, which updates the old "How to draw Mickey Mouse"-style tutorials with a new art style, a history lesson about manga and the new aim of drawing a character that looks nothing like the character that you're trying to draw, brings new levels of shame on the Lucasfilm extended brand family with commentary like:
Manga characters seem to almost always have bangs. Even if the character being drawn in real life does not, the Manga style usually incorporates them anyway, along with longer than usual flowing hair.
Of course, this goes along with the fact that the character being drawn in real life looks nothing like the "Manga-Style" version:


They really should have just saved themselves the trouble of people complaining and just called the feature "Drawing A Generic Manga Girl That We'll Pretend Is Natalie Portman Just Because There Has To Be Some Kind Of Star Wars Link Here, I Guess," shouldn't they?
Drawing Manga-Style Padme Amidala [Star Wars.com]