The premiere season of American Horror Story was lousy with horny ghosts. Spirits flocked the halls of the murder house, hungry for nubile bodies in fetishwear. But show creator Ryan Murphy will have none of that, in his brand new, totally rebooted season.
This year's American Horror Story is set in a different time, a different location (a mental institution) — and won't have any ghosts at all.
According to TV Guide:
There are no ghosts in the second season - it's set in an asylum and Jessica Lange is a nun! - executive producer Ryan Murphy promises that there will be no lack of horror. "I think the story is horrifying," he tells us. "The story is a period piece in a mental institution based largely on truth and truth is always scarier than fiction."
Uh, excuse us what? We tuned into a whole season of this show, to watch ghosts put on plastic cat suits and spy on humans cry-masturbating. What is this nonsense? Who will fill in the hours of flashbacks? Will all the "ghost stories" be replaced with "mental patient" stories? Good creepy baby monster, we hope not. This second season just keeps sounding stranger and stranger — and hopefully that will be a good thing. Silver lining? At least we're done with the Harmons.
Top image via Jerad Marantz.
G/O Media may get a commission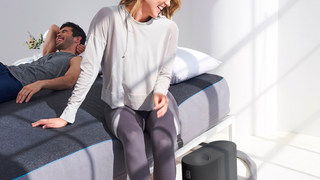 Eight Sleep Pod Cover