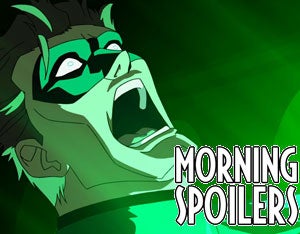 Morning Spoilers
If there's news about upcoming movies and television you're not supposed to know, you'll find it in here.
It looks like the dream of Christoph Waltz playing the Lizard has died a quick, ignominious death. Edgar Wright and company get you up to speed for Scott Pilgrim. All that plus Green Lantern, Fringe, Warehouse 13, Eureka, and Smallville!

Spider-Man Reboot:
The day after one inside source said Christoph Waltz is at the top of Sony's wish list to play the villain in the new movie, another inside source says he definitely isn't involved. So that's probably the end of that, considering even the original source said it was just something Sony would like to see happen.[Superhero Hype]
Green Lantern:
Here's a video of a visit to the movie's New Orleans set:
Scott Pilgrim vs. the World:
Here's an extensive interview with Edgar Wright and much of the cast. There's also some footage on display: [IGN] Click to view

Fringe:
The show is looking to cast identical twins in their 30s or 40s for guest appearances in the fifth episode. You know, Fringe casting directors, if you're looking for identical twins, I know the perfect pair - and I can pretty much guarantee they're available. [TWoP Forums]
Anna Torv hints that Olivia won't spend too long locked up in her alt-universe cell:
I don't want to spoil it, but I think it is safe to say she is not going to spend too much time stuck in a cell... That's not her bag…. I don't know how she will get home though. Remember how much energy and planning it took to get the others home in the finale?
And she hints that Fauxlivia's biggest challenge may be faking the chemistry "our" Olivia had with Peter... we'll quickly find out just how similar the two Olivias are. [EW]
And here's a new poster from Comic Con: [popculturegeek's Flickr]

Supernatural:
Producer Sera Gamble says Castiel will be in an interesting position next season:
Castiel is a full-powered angel. He was restored at the end of last season. He went back up to Heaven, and Heaven is kind of a mess. Dark angels are locked in the basement. It's kind of chaotic. He has what he feels is a mission to clean things up. That's where we start him off. He also has a very personal relationship with the boys. That also continues. That's where we start him this season. He's in a very interesting position. He's sort of caught between the problems of Heaven and the problems of Sam and Dean on Earth.
[EW]
True Blood:
Here's another new promo for the next episode, "Everything is Broken": [Spoiler TV]
Warehouse 13:
The original (and, with halfhearted apologies to Michelle Ryan, only) Bionic Woman, Lindsay Wagner, is guest-starring in next week's episode. In a recent press conference, she confirmed her character, Dr. Calder, will be a recurring role, and she's already done a second episode that will air towards the end of the season, with future appearances a definite possibility. She also strongly hinted that her character has secrets and/or possibly hidden abilities (sort of like Pete's vibes), although she made it clear that she couldn't really say anything about that.
SyFy has released a few more details about its standalone holiday episodes. We already knew Judd Hirsch would appear as Artie's father, and how he has a name: Isidore Weisfelt, and this is the first time the two have seen each other in 30 years. (By the way, in case anyone was wondering, Judd Hirsch is only 13 years older than Saul Rubinek, which is sort of weird. Of course, that's one more year's age difference than Sean Connery and Harrison Ford, and they played father and son just fine.) And it officially isn't just wanton political correctness that it's called a "holiday episode" - Artie reunites with his dad just in time for Hanukkah. Meanwhile, Pete and Myka will chase "a malevolent Santa Claus" who is terrorizing a businessman played by Paul Blackstone. [Blastr]
And here's the promo for next week's episode, "For the Team", in which Claudia goes on her first official assignment as a Warehouse agent while Pete recuperates: [SpoilerTV] Click to view

Eureka:
A familiar face will be returning for the holiday episode - Matt Frewer will be making his second return appearance as the highly eccentric Australian animal expert Taggert. Also, Chris Parnell is confirmed as a guest star, and here's how he fits in:
"As the Global Dynamics employees celebrate the season at the company holiday party, staff member Dr. Noah Drummer (Chris Parnell) nearly absconds with a volatile experiment. The halls get seriously decked when Dr. Drummer's unstable hydrogen crystal starts to grow at a frightening rate."
[Blastr]
The Other Side:
The great John Rhys-Davies and Joe Flanigan, who played Sheppard on Stargate Atlantis, are starring in a new Syfy movie about a marine (I'm guessing Flanigan) trapped in a hellish parallel dimension when an experiment to observe other universes goes awry. The movie is currently shooting in Ireland. [GateWorld]
Smallville:
Michael Ironside and Peyton List will reportedly reprise their roles as General Sam Lane and Lucy Lane, the father and sister of Lois. They will reportedly return in the same episode, which should air in late October. [TV Guide]
Writer Al Septien held an informal interview with fans via Twitter. There wasn't a ton of new information, but as for the show's much-vaunted returns and reunions: he hopes Black Canary returns, he doesn't know yet if Pete Ross is returning, and though Hawkman is indeed appearing this season, he won't share any scenes with frequent ideological opposite Green Arrow. [@AlSeptien with transcript at SpoilerTV]
And as for this set photo tweeted by actress Carla Catherwood - your guess is as good as mine, though frankly I'm not sure I want to know. For what it's worth, Al Septien mentioned in his Twitter interview that he's pretty sure she's a background player. [@CarlaCatherwood]


A promo for the new season shows Chloe holding Dr. Fate's helmet — and it sounds like she actually puts it on. [EW]
No Ordinary Family:
There are a bunch of spoilery little tidbits for the third through fifth episodes here, but this one is probably the most interesting - Michael Chiklis's character meets a decidedly less benevolent person with superpowers in the fifth episode. [KSiteTV]
Additional reporting by Mary Ratliff and Charlie Jane Anders.