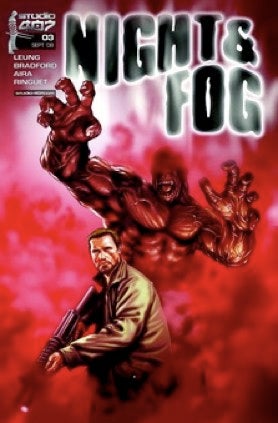 Ready for a new spin on an old plague/zombie movie? What about a period piece film that deals with WW2 experimentation gone horribly wrong? The comic book Night And Fog will be bringing its mutated soldiers to the big screen.
According to the trades Producers Gil Adler and Shane McCarthy are set to Adapt Sci-Fi Horror Comic Night And Fog.
The story is set in WW2 and explores the effect of a dangerous and deadly mist that transforms the soldiers on the military base into "preternatural creatures of the night. But when the survivors try to kill them, they adapt and change into something even more horrific and unstoppable."
Adler produced both Constantine and Superman Returns, so I think you know what "type" of film we're dealing with here: solid TNT late-night viewing material. Still, no filming dates as of yet, but we'll keep you posted. The set pics should be pretty fantastic.