The new G-Force trailer is out, so let's meet the celebrity-voiced super-spies. (That's Nic Cage second to the right, no lie.) This cracker-jack team has been assembled to bring down a Transformer army.
G/O Media may get a commission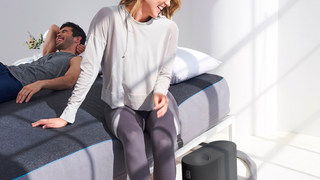 Eight Sleep Pod Cover
Raise your hand if the girl guinea pig Juarez (voiced by Penélope Cruz) makes you uncomfortable. I really could have lived my life to the fullest and never seen a guinea pig strut about on it's hind legs and make bedroom eyes into the camera.
The rest of the crew is made up of Blaster (voiced by Tracey Morgan), Speckles (Nicolas Cage ), Darwin (Sam Rockwell) and Bucky (Steve Buscemi). Together this new elite team must stop Bill Nighy and his evil army of Transformers, ok they call it a mechanized machine, but really they're Transformers.
All kidding aside, Will Arnett is pretty funny and and I'm loving the evil phone. The movie will be released July 24, 2009.
[Disney]