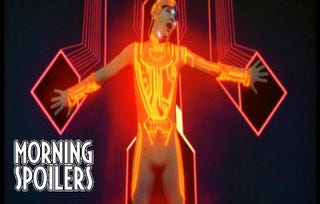 Morning Spoilers
If there's news about upcoming movies and television you're not supposed to know, you'll find it in here.
Iron Man 2 released a new TV spot, and Samuel L. Jackson talked action scenes. There's a spooky new Predators photo. Alex Kingston drops tons of Doctor Who spoilers. Plus Lost, Transformers, The Thing, Priest, Walking Dead and True Blood.

Iron Man 2:
Samuel L. Jackson told a reporter that Nick Fury won't just be sitting around telling other people what to do — he'll be killing people occasionally. "He does boss people around, but every now and then, you know, he does kill somebody, shoot somebody — does something. So I'd like for him to do something eventually." Parsing that statement, it sounds like the shooting and killing doesn't really happen in this next movie, but might in The Avengers. [MTV]
And here's a new TV spot. [Slashfilm]

Predators:
Here's a new pic of Adrien Brody and Alice Braga, and an ominous skull. Click to enlarge. [Rope Of Silicon]

Transformers 3:
John Malkovich will have a lot of interaction with Shia LaBeouf in this movie. [Coming Soon]
The Thing:
IMDB says Jonathan Walker (Land Of The Dead) has joined this prequel film, but it's not officially confirmed. [Fangoria]
Priest:
Karl Urban talks up this vampiriffic movie, and explains his character:
There was an emotional complexity about it in terms of the fact that I felt betrayed by Paul Bettany's character for having let me go or letting him let me be captured or not killed me. There's sort of interesting layers that you can sort of infuse and the depth of that rage and anger and longing and lust even of wanting Paul Bettany's character the Priest to come and join me so together as brothers they can exterminate humanity.
He also knows as much about what's going on with Star Trek as any other actor. [Coming Soon]
The Walking Dead:
Frank Darabont says the AMC adaptation of the zombie comic will be closer to Shaun Of The Dead than to Zombieland, but it'll really stick closely to Robert Kirkman's original source material, more than anything. "Robert Kirkman's comic book series, the graphic novel series, is very much a template for us, and it's a tremendous opportunity to take the subject as serious as possible, and really as a long-term exploration of characters, which is what television does best when television is really working." And he says they'll be shooting it old school — on film, which allows the outdoors to look like outside, and gives a real feeling to all the sequences of people hiding inside buildings, with glimpses of the outdoors. [Fearnet]
Doctor Who:
Once again, Digital Spy has ten teasers for the episode. Among other things, River Song is on the run at the start of the episode, but she has an escape plan involving the Doctor. The episode includes the caption "10,000 Years Later." Someone brings up the topic of spoilers about 9 1/2 minutes in. There's a Weeping Angel trapped inside the Byzantium. The Doctor bites Amy — and she asks if River is the Doctor's wife. The cliffhanger isn't the sort we're used to, even though it's very familiar. [Digital Spy]
Alex Kingston says River Song's blue diary includes pictures of all of the Doctors. (Past and future? Or just future?) And she says this is indeed the adventure that River referred to in "Silence Of The Library" — the crash of the Byzantium. River has been released from jail with a special dispensation to go on this mission, because she's the only one who can do it. River has a hunch that one of these weeping angel statues is in the hands of a private collector, and she needs to confirm that — and the confirmation must come from the Doctor himself. There's a party on board the spaceship where the statue is being held, and everybody at the party is supposed to be in 1940s outfits — but the only character we see in a 1940s outfit is River Song. And this is definitely not her first meeting with the Doctor, as you've probably guessed. She also drops a major hint that "the opening of the Pandoricum" is an adventure the Doctor shares with River — which is probably the season finale. [Digital Spy]
True Blood:
Here's another promo for the new season.

Chuck:
In Monday's new episode, we say goodbye to Ellie and Awesome, who are shipping off to Africa. And Chuck is so preoccupied with spy shit, he misses the big send-off, upsetting Ellie. [E! Online]
V:
Here's what happens in episode 10, "Hearts And Minds":
Erica, Ryan, Father Jack and Hobbes learn Anna's sent a V shuttle filled with a deadly V tracker team to find them, and must figure out how to stop the shuttle from landing.. Meanwhile, Anna gives Tyler his invitation to the Live Aboard Program, and Chad confronts Father Jack on what he knows about The Fifth Column.
Plus some pics! [The V Files]


Smallville:
Kristin Kreuk will definitely not reappear, and Michael Rosenbaum is just a faint hope at this point. As for Allison Mack, she'll probably be in season ten but it's still up in the air. There's a lot of Tess/Chloe action in upcoming episodes, and Tess will get more development. We'll realize that Tess and Chloe are much alike, but Tess is still stuck in the role of supporting a big hero (either good or bad) and Chloe has stepped out on her own. [E! Online]
And here's a clip from Friday's "Charade." [SpoilerTV]

Star Wars: Clone Wars:
So in Friday's episode, Boba Fett tries to gather a bunch of bounty hunters to go after the Jedi:
Determined to exact revenge upon the Jedi, Boba poses as a clone cadet to sneak aboard a Jedi Cruiser. It's easy enough for him to blend in; he is, after all, created from the same genetic blueprint as the rest of the clones – that of bounty hunter Jango Fett. But though he may have DNA identical to the Republic heroes', he nonetheless sees himself as a unique individual – with no affection for his genetic brethren.
And here's a new clip. Yo.


Lost:
Episode 15, the big Jacob/M.I.B. episode, is like a freakin movie. Also, there'll be a death that will leave you sobbing in the next few weeks. [E! Online]
Cynthia Watros will definitely be back one more time — she's filming it now. [TV Guide Magazine]
Mark Pellegrino says Jacob and his other big character, Satan, may not be as different as you think. There's a lot of darkness in Jacob, as we'll find out soon. [TV Guide Magazine]
New set pics confirm that Claire will indeed be in the final episode. [SpoilersLost]


Jorge Garcia has a really difficult, emotionally heavy scene in the finale. And he has one scene that's so secret, other actors aren't supposed to know about it. [Movieline]
Some more set pics include mysterious stalagmites and stalactites, and the airplane fuselage set. [Ryan on Flickr]


Additional reporting by Mary Ratliff.