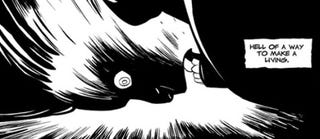 Blending Sliders and The Pink Panther, cartoonist Jeff Smith's next project RASL (it's pronounced "razzle") gives the world a dimension-jumping art thief out for everything he can get. Following on his award-winning, Scholastic- and Disney-friendly Bone fantasy series, it's a bit of a dimension jump for Smith himself, as he explained to Publisher's Weekly.
I really worked hard to understand physics, at least, theoretical physics, and worked to put RASL right in the center of all those theories. His theory that he comes up with that actually allows him to pull off this stepping between dimensions is not that ridiculous. I actually came up with something I think is a good science fiction principle. I mean, it still is science fiction. But it's not outlandish. It's not magic.
But what, you may ask, is the story about? Smith explains:

It's kind of like a noir film. He's this man who's kind of unplugged himself from the rest of the world, and he's kind of operating outside all systems. Literally outside our known universe. And he's got a lot of flaws. There's a woman in his past whose name is tattooed on his arm. He meets her in one of the other dimensions, only she's different in this other dimension and he falls in love with her all over again. But pretty soon she actually hires him to go after an art object, and he doesn't know who to trust... I'm trying to not give anything away. I hope I'm not just making it sound more boring.

Of course, even if you do find the story boring, there's always art like this:
Jeff Smith: Let's get ready to RASL [Publisher's Weekly.com]