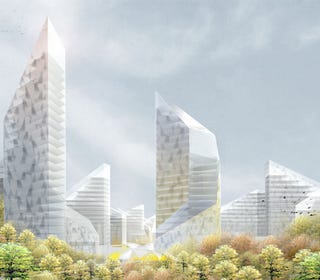 A Danish architecture firm is creating an entire district in China from scratch as a series of three connected islands. The district will be located in a low-level wetland between canals and rice paddies. Because it doesn't get a lot of natural sunlight, the design relies on reflections from water brought in to run in between the buildings for brightness. You can see the layout of the islands below.
Images by schmidt hammer lassen
The district was planned by combining feng shui-esque studies of the wind and the sun, plus the eco know-how of sustainability experts in London.
schmidt hammer lassen main page [via World Architecture News