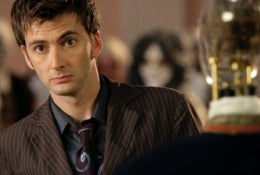 Does the appointment of Steven Moffat as new executive producer on Doctor Who mean an influx of new talent for the space-and-time-travel show in 2010? Rumormeister Rich Johnston definitely seems to think so, and he's dropping a particularly big name as a potential future recruit to Moffat's writerly army: Sandman creator Neil Gaiman.

Johnston, a long-established fan of both Moffat and Who, devoted the start of his "Lying In The Gutters" column yesterday to looking at what the future may hold for the BBC's flagship Saturday show under its new ruler:

Well, some people see Steven as transforming Doctor Who into something very different. That's not true, Steven has been a cheerleader for Russell's work on the project from Day One and will continue in that vein. Indeed, he may well fight aganst what is expected of him. But odds are we'll get some more fun time travel stories out of it, maybe a slight tweak towards intricate structure, and some interesting geek-friendly names.

Such as the rumour running around my BBC sources that Neil Gaiman being approached to write an episode for 2010. That would be this Neil Gaiman, comic author, fantasy novelist, screenwriter, poet and writer of the Duran Duran Biography 1985... [W]hen I asked Neil if he'd care to comment, he pleaded the Francis saying, "You may very well think that, but I could not possibly comment."

I do very well think that. I do.

Of course, nothing will actually have been commissioned by the BBC at this stage, and there's many a slip 'twixt cup and prosthetic lip, but it's looking good.
Gaiman isn't the first unexpected big-name writer to be attached to the show, of course; actor, writer and leading dancercizer Stephen Fry was to write an episode of the third season before scheduling conflicts forced him to pull out, and there's been a floating, entirely unsubstantiated, rumor that Grant Morrison would be writing something for the series since Christopher Eccleston was announced in the role. Nonetheless, having a New York Times best-selling author join the writing staff even for one episode would be a publicity coup for Moffat in his new role. Let's see if we can wait two years before finding out whether it turns out to be true or not.
Lying In The Gutters [Comic Book Resources]