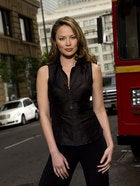 Heroes was supposed to boost NBC's high-concept new sci-fi shows Chuck and Journeyman. Instead, the two new shows may be dragging Heroes down. All three shows saw double-digit declines in overnight ratings, and Heroes had a season low. NBC came in third for the night, although Heroes still came in first. Says Medialife:


Media buyers had pegged "Journeyman" as one of the season's early casualties, saying it was too confusing. "Heroes" saw its 18-49 audience decline steadily at the end of last season, while comedy "Chuck," though receiving excellent reviews, is competing with sitcom lineups on CBS and CW.
Journeyman definitely has the look of a show that's eating itself. Although if you tell people it's about a guy who's stuck in a love triangle between his wife and his dead, time-traveler girlfriend (pictured above), it suddenly sounds a lot cooler.
NBC's Monday Night Lineup Takes Another Hit [Medialife Magazine]