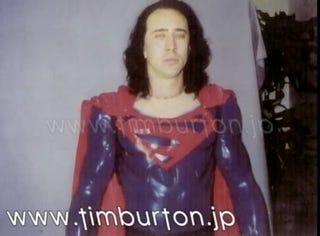 You've all seen the super shiny long-haired Nic Cage-as-Superman supposed test shot. Now we've, umm, uncovered some other "pictures" from Cage's lesser-known Superman projects. Plus, your chance to vote on whether the original image was Photoshopped or not!
Okay so clearly we just had some fun with Nic Cage and Superman toys, but why stop with the Tim Burton movie? What if he was Cyborg Superman, or Zombie Superman... and so on. And while we're at it, what about these guys for the big red-and-blue blur? Just throwing it out there: Jon Hamm as Superman seems like a good idea:
But in all seriousness we want to know what you think about the original image, which we ran the other day. Real, or bad Photoshop job?
io9 movie pitch photoshopping by Julia Carusillo.