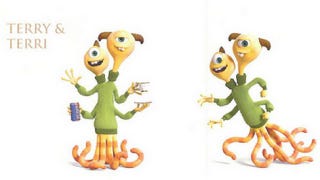 Monsters University the prequel to Monsters Inc., promises naked monster coeds streaking the quad, monster beer bongs, and students pulling all-nighters to pass their monster finals. Plus brand new characters!
We know that Sulley and Mike will both be returning for this origins story film, which showcases the beginning of their friendship, but there'll also be a whole bunch of new monsters to get excited about. A new crop of character art has introduced us to five new monsters. We kind of love Terry and Terri, but we're holding out for the monster improv theater-group.
Monsters University will hit theaters on June 23rd.
[Up Coming Pixar Flickr via Coming Soon]