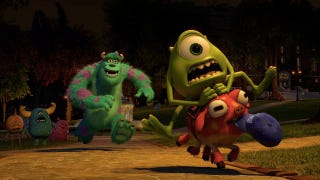 We've got two new images from the Pixar Monsters University: one showing the wacky monster hijinks on campus (look at that monster pig with the hypnotoad eyes!), and another shot of a banner that reveals this prequel's villains. Spoilers ahead!
These banners, found by Pixar Post, show Sulley and Mike on the presumed team good guy banner, and Randall J. Boggs and the Monster University version of Ogre on the other. Aw, look at baby Randall and his glasses!
Note the different Greek letters on the characters' shirts. We're betting these are the bad guys. Can't wait to see more campus competitions reworked with a monster twist.
[via Bleeding Cool]