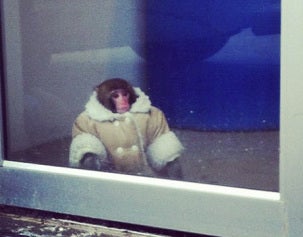 Visitors to an Ikea in Toronto had to finish their Christmas shopping with some unexpected company this past weekend. A small, but stylish, monkey wearing a shearling-like winter coat was found on the loose and alone in the store's parking lot after escaping the confines of its owner's cage. The monkey was eventually lured into the store by Ikea staff, where it awaited capture by animal control.
The owners, who were shopping in the store at the time, have since been charged $240 for keeping a prohibited animal. As you might expect, the owners were not able to take the monkey back home.
The CBC reports:
Shopper Stephanie Yim said she believes she was the first person to spot the escaped monkey.

After parking her car on the upper-level parking lot, she saw the animal peeking out from behind another vehicle.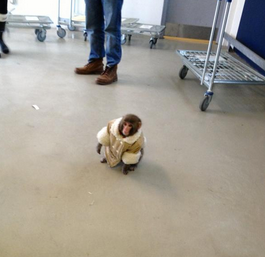 "It was the weirdest thing." she told CBC News. "I thought I was going insane."

Yim, along with other bystanders, began following the monkey as it skittered across the parking lot.

She said that while the monkey didn't appear to be scared, it cried out at times.

"It would start 'monkey-screaming,'" Yim said. "It seemed like it was screaming around for someone [it] knew. It was sad."
Images via National Post.