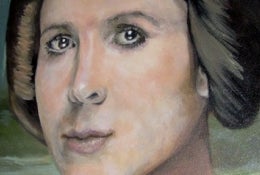 The one problem with Leonardo DaVinci's most famous painting of all, La Gioconda (or, to give it its more famous title, the Mona Lisa), is that it wasn't sci-fi enough. Thankfully, one man has spent the time and effort required to fix that one small flaw with the creation of the Mona Leia. Those eyes! That smile! That blaster! Feed your Carrie Fisher fine art obsession under the jump.
Amazingly, the painting - An original acrylic by Jim Hance - is still available for you to display in the gallery of your choice, whether it be tastefully in the living room or shamefacedly in the bathroom, for only $800. If ever one thing validated the entire existence of Etsy, then it would be this painting. As Hance himself says,
Of all the paintings I've created, I'm most proud of this one... This portrait will never be duplicated, no prints have been made. When she's gone, she's gone!
The Mona Leia [Etsy]