Morning Spoilers
If there's news about upcoming movies and television you're not supposed to know, you'll find it in here.
Mickey Rourke talks about his Iron Man 2 process and there's another rumor about Olivia Munn's role. Also, find out more about the destiny of the Daleks. Plus Lost, Sorcerer's Apprentice, Twilight, Fringe, True Blood, Stargate, Smallville and Chuck spoilers.

Iron Man 2:
Mickey Rourke went really, really method to play Russian villain Ivan Vanko, even spending four days visiting a Russian prison and studying the tattoos the prisoners had, so he could get a sense of what it would be like to be a prisoner in Russia for 20 years. And he talks about his character and how he shaped his portrayal:
In the story, the iron man suit (Arc Reactor) was invented by my father over in Russia and was stolen by Tony Stark's father and then my father spent his whole life feeling cheated and then died when he got out of prison. And so what I'm doing is avenging my father's death because of what was stolen from him..

I spoke to Favreau and I told him, after I read the material, that I had some adjustments that I wanted to make and some character choices and he brought in Justin Theroux, the writer. And I said 'well, I'd like to be able to speak Russian in the movie, I'd like to be able to use a Russian accent when I had to speak English and I also wanted to have a pet.' I was also adamant about not making him your typical, you know, lumbering kind of one dimensional Russian villain character. I said 'there is no reason why this guy can't be sympathetic at times…' I also wanted him to have a sense of humour. Yeah, sure he is going to be violent and unpredictable and all those other stereotypical things that you are going to have with a Russian bad guy, but it was important for me to bring some likability to the character.
[Inquirer via Comic Book Movie]
An anonymous source claims that Olivia Munn plays Janet Van Dyne, who has a small role in this film and becomes the Wasp in The Avengers. As usual, the caveats about anonymous sources apply. [Forces of Geek via Slashfilm]
G/O Media may get a commission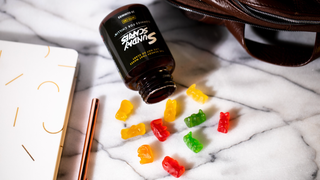 10mg CBD Gummies (22-Count)
The Twilight Saga: Eclipse:
So we reported yesterday that this movie is having reshoots and director David Slade may be booted off. But a studio spokesperson tells Hitfix that these aren't really reshoots — just pick-up shots, which the filmmakers just need to insert in existing scenes because of lighting issues or whatnot. And Slade himself will fly back from overseeing the film's score in London to supervise these pick-up shots. So, you know, don't panic. [Hitfix]
The Sorcerer's Apprentice:
Here's the first teaser poster for this Nic Cage wizard-out movie. [ScreenCrave]


Doctor Who:
There's a review of episode three, "Victory Of The Daleks." The episode is basically split into two halves — the first 12-15 minutes are really exciting and play up the "Blitz spirit" and Winston Churchill's cabinet war rooms. We meet Churchill before the opening credits, and there's a quick twist to capture your attention. Churchill talks in speeches and patriotic slogans, but Edwin Bracewell, the Daleks' "inventor" is a more fleshed-out character. There's a great space dogfight (as seen in the trailers.) The Daleks have been redesigned again, and instead of names, are called things like Drone, Scientist, Supreme, Strategist and Eternal. This story reintroduces the Daleks in a way that leaves the door open for them to return. And the fact that Amy has never heard of the Daleks. [Total Scifi Online]
Here's the synopsis for episode five, "Flesh And Stone":
There's no way back, no way up and no way out. Trapped among an army of Weeping Angels, the Doctor and his friends must try to escape through the wreckage of a crashed space liner, in the fifth epsiode of Doctor Who, written by Steven Moffat. Meanwhile, in the forest vault, the Doctor's companion, Amy Pond, finds herself facing an even more deadly attack.
Fringe:
Here's a complete batch of promo pics for the musical episode, "Brown Betty". [BSC Review]


The alt-universe is different from ours in ways that are delightful and disturbing — and there will be some startling reveals in the finale, which will be more personal in nature than the Twin Towers in last year's season finale. [EW]
True Blood:
There's another new poster for season three! [ShockTillYouDrop]


Smallville:
Clark still has some hard lessons to learn, but the end of the season will see him getting redeemed and stepping up into a leadership position, says producer Brian Peterson:
This season has been about Clark exploring an identity as Clark Kent and a very separate identity as this cold, saving Kryptonian. That will propel us into the next season, where he has evolved out of that. He's been in his Kryptonian cocoon, and he will evolve out of that into the hero we all recognize. For everybody who goes out to be a hero for good, you have to struggle with the darkness before you really can come out the other side of it.
[TV Guide]
Peterson also gives some ultra-vague spoilers for the finale:
Everybody has come to expect some huge, gigantic, massive superfight because we do that a lot in our finales, or we once did, and this year will still meet everybody's expectations. We have some amazingly iconic moments-moments catch close to all of that much bigger mythos that has become Superman-probably more than any other episode in the series. But it also is much more about Clark's character and his growth, and some character reveals than just all-out fighting. It's a really great way to go out of the season on some amazing character cliff-hangers.
Here's what happens in episode 9x21, "Hostage":
Clark's mother (Annette O'Toole) returns to Smallville with her new boyfriend, Perry White; Chloe and Clark search for information that may help them stop Zod and his army.
Chuck:
Chuck is keeping a secret from Sarah — one which could cost Chuck his mind. And someone from Chuck's past may be coming back to hurt him. [EW]
Supernatural:
Dean's impending face-off with Death is one of the show's greatest moments ever, says Sera Gamble. And Meg won't be back. [EW]
Stargate Universe:
There are a couple of new images over at CinemaBlend. [CinemaBlend]
Heroes:
No matter what, Mohinder won't be back, says Sendhil Ramamurthy. [BBC]
Lost:
Here's another sneak peek from Tuesday night's episode:

Here are a buttload of behind-the-scenes pics from the finale. [SpoilersLost]


Dylan Minnette, who plays Jack's son David, Tweeted about wrapping up filming for the finale. [SpoilersLost]
Jorge Garcia says we will see Ilana again, but we won't be learning much more about her mysterious past with Jacob. [E! Online]
A few more finale set pics. [SpoilersLost]


Additional reporting by Mary Ratliff.