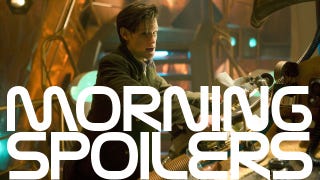 Morning Spoilers
If there's news about upcoming movies and television you're not supposed to know, you'll find it in here.
Doctor Who will air a new mini-episode this Friday. The special effects wizard behind 2001 and Blade Runner has plans for a space epic. Joseph Gordon-Levitt says The Dark Knight Rises isn't messing around. Plus what's Tarsem Singh's dream project?
Spoilers from here on out!
Top image from Doctor Who.
X-Men: First Class Sequel
Magneto actor Michael Fassbender says he doesn't know when the all-but-confirmed follow-up to X-Men: First Class will start filming, but there are some things he's excited to explore when the time comes:
I'm looking forward to working with all those people again. We had a lot of fun. It was a great cast and a great crew. Hopefully, I'll get in at ground level and start putting some ideas together myself, with James [McAvoy] and, hopefully, (director) Matthew [Vaughn], and we can see what happens next.

I'm really interested to see what happens to Charles (James McAvoy), in the next one, and see how he becomes Professor X, 'cause we got to see Erik turn into Magneto, in the first one. It will be interesting to see who shaves Charles' head. When he's drunk one night, the mutants will go in there and shave his head and shave off his eyebrows. Maybe.
[Collider]
---
The Dark Knight Rises
Nobody gives a non-informative quote quite like Joseph Gordon-Levitt, but the actor did at least give this assurance that Christopher Nolan's final Batman film is a highly professional endeavor:
"Everyone (on set) is really excited about what we're making 'cause everyone knows we're making something good. We're not just doing it for a paycheck, we're not just punching the clock, everyone really cares about the movie, and that always makes it way more fun to do."
---
Untitled Douglas Trumbull Project
Douglas Trumbull, who did the special effects for (deep breath) 2001, Close Encounters of the Third Kind, Star Trek: The Motion Picture, Blade Runner, and Terrence Malick's recent universe-bending Tree of Life, is reportedly working on plans for his third directorial effort. Trumbull explained the sort of technological innovation he'd like to bring to the movie, and what sort of film it will be:
I'm shooting films right now at 120fps in 3D and I know that the result is absolutely stunning but very few people on this planet have actually seen that, yet. I have a very challenging process ahead of me to start demonstrating this and doing at least one film that I want to make.

I have several films lined up but I've got one in particular that would lend itself to this. It's a big space adventure movie. And I've got to make the movie and show it in this process and convince people that there's a very big audience that wants to see this kind of tremendous technological, creative, visual leap forward to much higher quality.
He also explained some of the questions that the movie would likely consider:
Well, not so much an ecological bent as much as a survival bent. Having to do with reaching for the stars and why we would have to go to the stars. Are we using up this planet at such an exponential rate with population growth and the depletion of the resources that we're going to have to leave the earth?
---
Sherlock Holmes: A Game of Shadows
Robert Downey Jr.'s wife and producer Susan Downey explains what's driving Sherlock Holmes in this movie:
"[Holmes] has been obsessed since the first movie with the scent of Moriarty and believing that he's on to something much bigger. This movie is essentially following him, figuring that out. But there are smaller mysteries along the way that are adding up to a bigger thing that's happening."
Moriarty actor Jared Harris adds:
The whole story is a plan or plot that he has set in motion quite a long time before the story starts. There's a tremendous sense of motion to the story and Sherlock Holmes is arriving in the end stages of this plan and he's catching up to it to thwart it. One of the things that I was interested in about Moriarty was how he's so manipulative that he doesn't need to commit violence himself or kill people. He can get everyone to do what he needs to do and sometimes they don't even know that they are being manipulated by him. They aren't even aware that they are caught in a stratagem that he has... That's quite chilling, to have someone that understands people that well. He can have a letter arrive on the wrong day and it's going to be enough that it will set somebody off or whatever it is."
There's some more at the link. [ComingSoon.net]
---
I, Frankenstein
Aaron Eckhart's post-apocalyptic vigilante take on Frankenstein's monster is officially shooting in Melbourne, Australia, and the city will also be the site of all pre-production and post-production. The movie will shoot in the city's Dockland Studios, as well as some locations around the city. [Herald Sun]
---
Brave
Here's two new promo images for Pixar's next movie, which is set in a mystical version of Scotland...which is pretty much just Scotland, come to think of it. [ComingSoon.net]
---
Mission: Impossible - Ghost Protocol
Here's a TV spot.

And here's a bunch of posters. [MTV Movies Blog and FirstShowing.net]
---
Samurai Jack: The Movie
File this one under wishful thinking, but Immortals director Tarsem Singh reveals that a movie adaptation of the Emmy-winning Cartoon Network show is his dream project:
"I love Samurai Jack. I would love to direct that. It's brilliant. The speed, it embraces where it comes from. I find that comic strip films are halfway grounded. They don't play my chord. But I love Samurai Jack. I love the animation."
---
Doctor Who
The show's official Twitter page has all but confirmed that there will be a new mini-episode - or at least something specially written by Steven Moffat, which means it's probably more than a random Matt Smith cameo - for this Friday's Children in Need telethon. Previous specials included last year's mini two-parter "Space and Time", the multi-Doctor delight "Time Crash", and...the 2005 Children in Need Special, which is officially called "The 2005 Children in Need Special." (It's the one that bridges "Parting of the Ways" and "The Christmas Invasion." Anyway, we know it's written by Steven Moffat, Matt Smith is in it (which we probably could have assumed, admittedly), and the Twitter page offered this small hint:
We've seen the short script and it is NOT what you'd expect. Oh, it's funny and fast and Doctorish and brilliant… but not what you'd expect…
---
The Walking Dead
Here's a promo and sneak peek for the next episode, "Secrets."

And here are some promo photos. [ShockTillYouDrop]
---
Chuck
The series finale will reportedly be called "Chuck vs. the Goodbye", and it will be two hours long. It's set to air January 27, and is absolutely positively the last episode, unless NBC completely collapses in the next two months and is forced to renew everything out of sheer desperation, and there's probably only like a 20% chance of that happening. This is NBC, after all. [TV Line and SpoilerTV]
---
Once Upon a Time
Here's a promo for episode five, "That Still Small Voice."

And here are some promo images for the episode. [BuddyTV]
Here's a synopsis for episode six, "The Shepherd":
DAVID - AKA JOHN DOE - MUST CHOOSE BETWEEN STAYING WITH KATHRYN OR MARY MARGARET, AND PRINCE CHARMING ENCOUNTERS A LIFE-CHANGING EVENT THAT WILL FOREVER ALTER HIS DESTINY, ON ABC'S "ONCE UPON A TIME"

David - aka John Doe - must choose between staying with Kathryn or leaving her to be with Mary Margaret, with whom he's fallen deeply, and inexplicably, in love; and Emma catches Sheriff Graham in a lie. Meanwhile, back in the fairytale world that was, Prince Charming is about to encounter a life-changing event that will forever alter his destiny.
---
Beautiful People
NBC is reportedly ordered a pilot for this futuristic drama series from, of all people, former MADtv cast member Michael McDonald. The series is set in a world " in which families of mechanical human beings exist to service the human population - that is, until 'some of the mechanicals begin to awaken.'" [EW]
---
Supernatural
Here's a promo for the ninth episode, "How to Win Friends and Influence Monsters."

And here's a sneak peek. [BuddyTV]

---
American Horror Story
For those so inclined, you can check out a sneak peek for this week's episode, "Open House", right here. Or you can just stay right here and look at some nice promo photos from the episode. [SpoilerTV]
---
The Vampire Diaries and The Secret Circle
Here's a promo for the shows' returns in January.

---
Additional reporting by Gordon Jackson and Charlie Jane Anders.