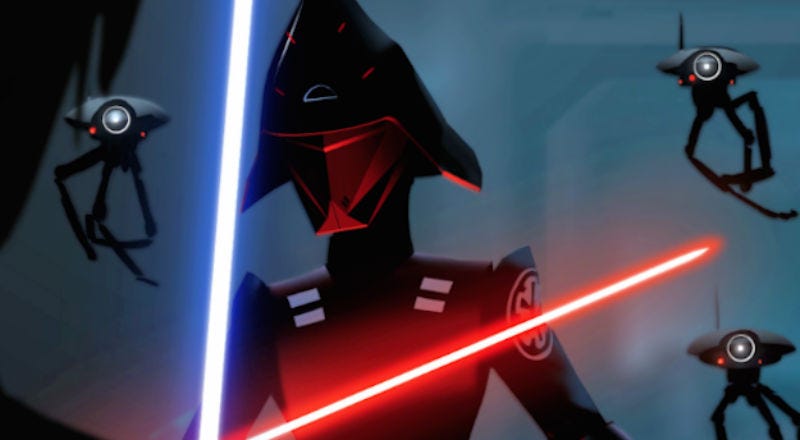 Earlier this year, genre fans got pumped up when Buffy herself, Sarah Michelle Gellar, was announced as a cast member on Star Wars Rebels season 2. Speculation ran rampant about who she'd be playing and now we know for sure.
Buzzfeed reveals Gellar is not playing Princess Leia, but instead a character named the Seventh Sister, an Inquisitor who will hunt down Jedi like Kanan, who is voiced by Gellar's husband Freddie Prinze Jr.
In season one of Star Wars Rebels, Darth Vader employed a character named the Inquisitor to hunt down Kanan and his would-be apprentice, Ezra. The Inquisitor wasn't a full Sith, but could use the Force and had a lightsaber. Eventually, Kanan defeated the Inquisitor but in season two, it'll be revealed that Inquisitor was the "Grand" Inquisitor, and he had many underlings. One of them is the Seventh Sister.
A new video features Gellar talking about the character and explaining that she's on the tail of not just the Rebels, like Kanan and Ezra, but also Vader's old apprentice Ahsoka Tano. The Seventh Sister has a lightsaber and employs mimic droids to help her defeat her enemies.
Star Wars Rebels returns on October 14.
[Buzzfeed]
---
Contact the author at germain@io9.com.