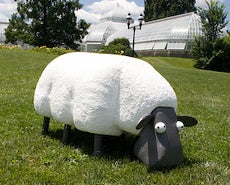 If you've been putting off that trip to Pittsburgh, now might be the time to call your travel agent. Yesterday, the Steel City kicked off the Robot 250 Festival, a 17-day celebration of robot art and technology, featuring art exhibits, workshops, lectures, parties, film, and theater, all with a robot theme. Punctuating the festivities are 11 "BigBots," installations that process and respond to sensory information, but "challenge the public perception of what a robot is." Read about electric sheep, video gaming animals, and giant foam fingers after the jump.
You're #1: Ian Ingram, Artist-In-Residence at the Carnegie Mellon Robotics Institute's CREATE Lab, has mounted a 15-foot tall foam finger in Steelers colors atop the Andy Warhol Museum. The finger points to individuals who "high five" any of a number of smaller foam fingers placed throughout the city. The finger encourages viewers to try to figure out where the finger is pointing and explore new and familiar parts of the city.
Reach, Robot: Composer and choreographer Grisha Coleman created an interactive musical installation. As pedestrians walk through Pittsburgh's PPG Plaza, a web of cables suspended above their heads reacts to their motions. Walking, pausing, stepping, and reaching all trigger various sounds in the installation, immersing passersby in the musical and spoken works of the city's African-American writers and artists.
Shelter: Garth Zeglin is a researcher at the Carnegie Mellon Robotics Institute whose work includes developing bipedal walking robots. But "Shelter" is a kinetic fabric robot. Viewers are invited to sit on a chair in the middle of two concentric fabric tents, which function independently of each other and respond to human presence as well as changes in light.
Extreme Animals: The Video Game: Inspired by his former job as the mascot at a Chuck E. Cheese, Matt Barton's projects frequently include animatronic taxidermied animals. The animals of this work, created with Paper Rad member Jacob Ciocci, play frenzied video games, murmuring at and reacting to the game's action. They glance back at approaching visitors, but promptly ignore them, returning their attention to the television screen.
ABB Basketball Arm: Perhaps the most well-traveled of the BigBots, this former automobile welder now shoots baskets at science museums across the country. The robot shoots free throws, with the angle and velocity of the ball selected by visitors, demonstrating concepts of precision and repeatability as well as how a single robot may serve diverse purposes.
The Look-See Tree: CMU grad student Ally Reeves designed a "Roving Art Cart" transported and powered by bicycle. The attached tree trunk lures viewers towards one of its six mini theaters, which come alive when it senses a human presence. Each theater displays an animatronic scene of animals whose existence is impacted by modern life; birds chirp cell phone rings and animals gather objects from the city for their nests.
Green Roof Roller Coaster: Gregory Witt and Joey Hays decided potted plants need a little more excitement in their lives, placing several young trees in a handmade rollercoaster on the roof of the Children's Museum. The coaster's cars monitor the vitals of the thrill-seeking vegetation and make sure they're having a good time.
Rise and Fall: Artist Jennifer Gooch explores the nature of patriotic symbols and the ebb and flow of a nation's dominance. Flags run up and down flagpoles and anthems play in a set loop. Visitors can send one flag to the top, but eventually it returns to its preset cycle.
Double-Taker: A robotic arm simulates human gestures and eye contact as it observes people outside the Center for Arts, making the occasional eponymous double-take. CMU Professor of Electronic Arts Golan Levin creates ocular art that changes based on the way the viewer views it.
prototype for an infinite array of semi-autonomous percussive devises (or Crickets): Kinetic sculptor Keny Marshall has created a network of cricket-like robots that knock out a certain pattern when they are "alive" and go silent when "dead," that state determined through the rules of John Conway's "Game of Life." Just like real crickets, this installation produces constant changes in harmony, with the added benefit that you can turn it off.
Mower: An android's dream might be John Deere's worst nightmare. An allusive electric sheep wanders the lawns of the Phipps Conservatory and Botanical Gardens, providing all the benefits of grazing animal without the need for a pooper scooper. Mechanical engineer and visiting professor at the Carnegie Mellon School of Art Osman Khan deliberately created a robot that solves a problem with already existing solutions.
The Robot 250 Festival ends July 27, although some events and exhibits continue into August.