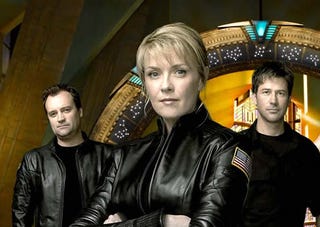 The new recipe for ratings success at SciFi Channel? Final episodes, apparently, as last Friday's season/series conclusions of both Stargate Atlantis and Sanctuary brought in higher-than-usual audiences. Why do we love to watch things end?
The final episode of SGA managed to score 2 million viewers, capping off an incredibly successful season that had seen the show grow its audience by 5% compared with the year before. More impressively, its household rating increased by 14% when compared with last season. Sanctuary, meanwhile, also managed to grab 2 million viewers, giving the show its best ratings since the season premiere.
The one-two finale punch managed to make the channel the fourth most-watched cable network for the night, something that has to make the people in charge very happy... especially knowing that this Friday sees the start of the final episodes of Battlestar Galactica, replacing the departed shows.
'Stargate,' 'Sanctuary' Give Sci Fi Stellar Ratings [TV Week]