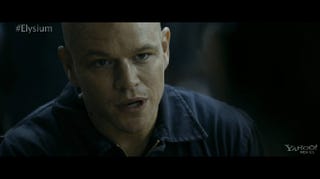 The first ever clip from Neill Blomkamp's Elysium should make you pretty damn happy that Matt Damon was cast in this movie.
Too often, our futuristic action heroes are painted as angelic saints who never forget to bring their elderly mothers flowers or their wives jewelry. Thank god, that's not the case in this movie. Watch as Damon plays a fully formed human being with sarcasm, hope and frustration, all rolled into one "PLEASE LISTEN TO ME ROBOT MAN" clip. We cannot wait for this movie.
Elysium hits theaters on August 9.