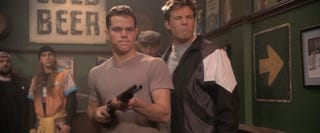 Syfy has announced yet another new TV series, and this time they're partnering up with Matt Damon and Ben Affleck for a futuristic spy show called Incorporated. But wait, it's not just Jason Bourne in the future.
According to the press release sent out by Syfy, the new series Incorporated will take place in a future world where "corporations have seemingly unlimited power." And the story centers around one character who is trying to beat that system.
David and Alex Pastor (Selfless, The Last Days) will write the pilot. And Ted Humphrey (The Good Wife) will serve as executive producer/showrunner, along with Damon, Affleck and Jennifer Todd as executive producers. Pearl Street Films is the production company associated with Affleck and Damon, but we're not particularly sure just how involved they will be in the series process. And who knows when the show will appear, because today's announcement was only just making us aware of the partnership between Pearl Street Films, CBS Television Studios and Syfy. No doubt this show will be in development for a bit more time.