After weeks of taking it relatively easy, there's only one way to look at this week's new releases: Marvel are back to wanting all of your money. But steampunk and weird goodness are available elsewhere.
Marvel are apparently trying to flood the shelves tomorrow, but at least they're doing it with good books from good writers. Fred Van Lente is behind the new Savage She-Hulk and Marvel Zombies 4 series. Jeff Parker is writing the reborn Exiles. Andy DIggle is scripting Dark Reign: Hawkeye, and the wonderful Jason Aaron gets a brand new series, Wolverine: Weapon X in advance of next month's movie.
As if that wasn't enough, there's also a new hardcover collection of the last Dark Tower series, Treachery (not to mention Dark Tower: The Guide To Gilead, a fact-file-ish tie-in) and the first issue of time-travel series Timestorm: 2009-2099.
(Of course, time-travel fans may just be picking up the collection of Doctor Who: The Forgotten, which also comes out tomorrow).
While DC's much quieter new release schedule offers mostly continuations of ongoing events and series - I'd definitely point you in the direction of the second issue of Superman: World of New Krypton, just to see if it measures up to the impressive first - that's not to say that they have no new books of note this week. In fact, the Showcase Presents: Doom Patrol Vol. 1 collection may just be the best thing out this week, a collection of the 1960s team of misfit heroes (Radioactive test pilots! Racing car drivers without a body!) that offered an off-kilter alternative to the then-cookie cutter cleanshaven heroes they were surrounded with. Definitely recommended.
G/O Media may get a commission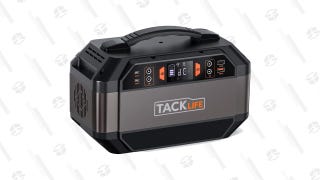 Tacklife Portable Solar Generator
Also recommended is Ignition City, the new series from Warren Ellis that we wrote about back in November that mixes steampunk, Deadwood and the fate of all old pulp heroes when they're not young and dashing anymore. Ask for it by name when visiting your local funny book emporium.
That'll be the one you can find here, in case you're wondering - and make sure to check out the complete list of books reaching stores this week before doing so. If they ask, tell 'em that the ghost of Flash Gordon sent you.