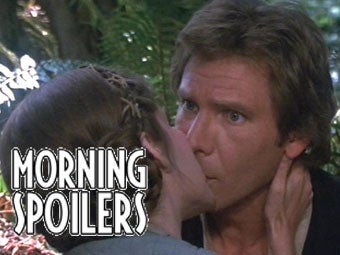 Morning Spoilers
If there's news about upcoming movies and television you're not supposed to know, you'll find it in here.
The star of the British Office might still be the new Bilbo Baggins. Milla Jovovich will fly off the screen to kick your ass in the 3D Resident Evil Afterlife. Chuck adds a real nightmare to its cast. Spoilers away!

The Hobbit:
There's a new twist in the "Will Martin Freeman play Bilbo Baggins?" story that we mentioned the other day. Although the original report in the reliably unreliable British tabloid The Sun suggested Freeman had turned down the role because of his commitments to Steven Moffat and Mark Gatiss's Sherlock Holmes adaptation, a new report suggests New Line and MGM have reworked the filming schedule to accommodate his Dr. Watson commitments. (It's probably fairly easy to reconfigure a shooting schedule when the movie itself is still in limbo.) If these reports are accurate, then we might be very close to Freeman agreeing to do it after all. Keep the grains of salt handy, of course. [Entertainment Weekly]
X-Men - First Class:
Child actor Lawrence Belcher (who I'm guessing has never been made fun of for his name) has reportedly been cast as the really young version of Professor Charles Xavier, while of course James McAvoy is playing the fairly young version of Professor X. [BleedingCool]
Resident Evil - Afterlife:
Ali Larter recently gave an interview in which she explained some of the new film's 3D thrills, plus previewed the fight between her character and Milla Jovovich's Alice:
Can you give us a taste of something that might come flying out of the screen at us?
Mila. She dives off the rooftop of this building, and it's incredible. Sensorially, you're so stimulated. That's what you go to in these movies.

Is it true that you and Milla have a fight in this movie?
Not really a fight. It's figuring out who you can trust. She realizes that Claire has gone through a very traumatic experience, and she's found a way to get away, but there's a residual factor about what's happened to her. She's lost some of her memory. Alice is a big part of her trying to figure out her life and who she can trust again. There's definitely a kick-ass fight, but it comes from an interesting place.
Transformers 3:
There seems to be a little more evidence to the theory that John Turturro's Agent Simmons is now super wealthy. Hi-res images of his swanky car reveal licence plates that seem to spell out "Simmons." Here are the theory-bolstering photos: [TFW2005]

Fringe:
In an interview with Rolling Stone, John Noble says his dream guest star is musician Tom Waits, and that it's something the rest of the production team is at least thinking about:
"Now there's music to get depressed to. One day, one of the producers was wondering if we could get Tom Waits for a guest role. We all started screaming like schoolgirls!"

Chuck:

Horror icon Robert Englund will reportedly appear in the sixth episode "Chuck vs. The Aisle of Terror", as the villainous scientist Dr. Stanley Wheelwright. Unsurprisingly for the man who was Freddy Krueger, Englund is appearing in the Halloween episode. His character is described as someone "who can make your waking life a nghtmare", although whether that's actually a clue as to what he's up to or just an allusion to A Nightmare on Elm Street is unclear. [The Ausiello Files]

Here's a quick new promo, which also shows off The Event:
True Blood:

Here are four preview clips to get you ready for the season finale: [CinemaBlend] Click to view


Ep. 36: Evil Is Going On - Preview

Ep. 36: Clip - Sookie runs through the forest

Ep. 36: Clip - Sam cooks Tara breakfast

Ep. 36: Clip - Sam cooks Tara breakfast

And here's a not incredibly revealing episode description:

Eric (Alexander Skarsgård) grapples with his conscience while plotting his perfect revenge against Russell (Denis O'Hare). Fed up with being "vampire crack," Sookie (Anna Paquin) considers a new life without Bill (Stephen Moyer) – or any other vampire. Tara (Rutina Wesley) discovers some surprising news about Sam (Sam Trammell), whose rage resurfaces upon learning of Tommy's (Marshall Allan) latest transgression. Jason (Ryan Kwanten) finds a new calling after warning Crystal's (Lindsay Pulsipher) family about an impending drug raid. Plagued by visions, Lafayette (Nelsan Ellis) turns to Jesus (Kevin Alejandro) for help, and learns his boyfriend has more to offer than companionship. Hoyt (Jim Parrack) hopes for a future with Jessica (Deborah Ann Woll), spurning Maxine's (Dale Raoul) pleas to wed Summer (Melissa Rauch).

Supernatural:

These are some set photos from episode six, "Live Free or Twihard": [SpoilerTV]


The Event:

Hal Holbrook will reportedly appear in multiple episodes as Dempsey, a shady businessman who goes up against President Martinez. Holbrook is no stranger to conspiracy thrillers - he's maybe best known for playing Deep Throat in the Watergate drama All The President's Men. [TV Guide]

And here's some behind-the-scenes footage: [SpoilerTV] Click to view

Stargate Universe:

Some new promo photos are out for the season premiere, "Intervention": [GateWorld]


Additional reporting by Kelly Faircloth.