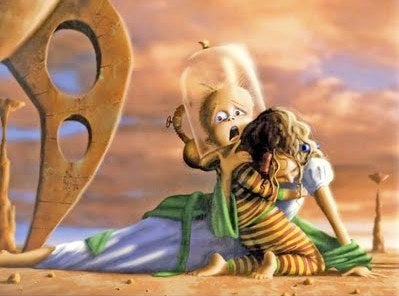 Disney has closed the doors to Robert Zemeckis's motion-capture studio ImageMovers Digital. But in the wake of this destruction comes some interesting news. Disney is still moving forward with mo-cap Yellow Submarine and Mars Needs Moms.
The New York Times announced that ImageMovers was done. The San Francisco company would slowly start wrapping production and closing its office doors. Disney explained it was the financial climate of today that made the cost cutting moves so important. We tend to think it was more the so-so box office turn out for Zemecki's A Christmas Carol, and the NYT agrees.
But interestingly enough Disney still has plans to make Zemeckis's current films, the mo-cap film adaptation of children's book Mars Needs Moms, and the remake of The Beatles cartoon Yellow Submarine. We understand why they'd want to keep Yellow Submarine. The Beatles have always managed to bring in the crowds, and a mo-cap version of this film could be especially fantastic with 3D and the amazing soundtrack. But we wonder what hand Avatar had in Marsnot getting canned?