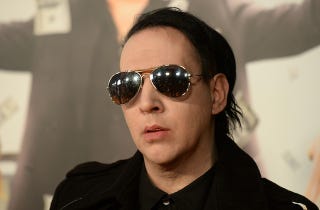 Rocker Marilyn Manson is joining the cast of Once Upon a Time—in voice, if not body. And he's lending his growl to a character we've already met.
Rolling Stone reports that Manson will be voicing the Shadow, continuing the dark thread of Neverland:
"We've always been enormous fans of Marilyn Manson," show creators and executive producers Eddy Kitsis and Adam Horowitz told Rolling Stone. "We wanted to cast someone with the vocal ability to make our skin crawl."
Marilyn Manson Joining 'Once Upon a Time' Cast [Rolling Stone via The Mary Sue]
Photo by Jason Merritt/Getty.