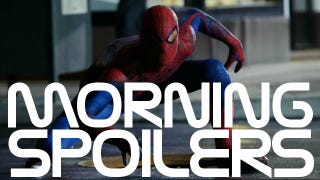 Morning Spoilers
If there's news about upcoming movies and television you're not supposed to know, you'll find it in here.
In comics, Spider-Man is always ready with a snappy and/or terrible one-liner, but we haven't seen that side of him in the movies... until now. Director Marc Webb reveals why a wisecracking Spidey is essential to his more realistic vision!
Steven Moffat offers some crucial hints for the future of Doctor Who.
The Evil Dead reboot finds a new lead, plus find out which iconic elements of the original will return.
New images of Prometheus, Riddick, Snow White and the Huntsman, and more!
All that, plus get the latest on Fringe, Game of Thrones, Supernatural, and more! Start your week with spoilers...
Top image from The Amazing Spider-Man.
The Amazing Spider-Man
Director Marc Webb explains how this film restores Peter Parker's trademark sense of humor, something that was never really in evidence in Sam Raimi's trilogy:
There's this trickster quality we were very keen on exploring, with that humor and that fun and that wisecracking stuff. We wanted to keep that alive, but we wanted it to be realistic. We wanted that humor to come from a real place. My aim was to create a world where you could feel all those emotions. There are certainly darker, more intense feelings in this movie. There is betrayal, there is tragedy, but there's also humor and romance. So it's a very complex bouquet of emotions, but what you have to tread on is what feels authentic and what feels real, and you have to earn those different emotions. There are moments of furiousness and gravity, absolutely. But are there moments of humor and levity and whimsy? Absolutely.

Andrew was really great. He used this term to describe Peter Parker in Spider-Man and Spider-Man in particular: he's a trickster. He was like "How would Spider-Man web this guy? He'd give him a wedgie or he'd do some awful graffiti." There's a punk rock quality to Peter Parker that's really irreverent and fun and that's something that Andrew embodies in a way that we haven't seen before. Certainly the materials that have come out have a darker sentiment or there's a darker projection, but we're very keen on staying loyal to the humor of Spider-Man.
He also suggests that Gwen Stacy is "super smart, maybe even a little bit smarter than Peter", and this adds an underpinning of rivalry to their romance. There's more at the link. [Latino Review]
Columbia Pictures has released some new official images of Andrew Garfield as Peter Parker, Emma Stone as Gwen Stacy, Martin Sheen and Sally Field as Uncle Ben and Aunt May, and Campbell Scott as Embeth Davidtz as Peter's parents Richard and Mary Parker. [Coming Soon]
---
Prometheus
Here's a new promo photo of space archaeologists Noomi Rapace and Logan Marshall-Green. [Coming Soon]
---
Riddick
Vin Diesel has released yet another awesomely crazy set photo of himself as Riddick. [Vin Diesel's Facebook]
---
Evil Dead Reboot
Jane Levy, the star of ABC's generally pretty decent new sitcom Suburgatory, has reportedly signed on as the new female lead in Fede Alvarez's remake, replacing the previously cast Lily Collins. Levy's character is Mia, a young woman going through drug withdrawal who becomes possessed by the forces of evil. [Deadline]
A script review, reportedly of a post Diablo Cody draft, has surfaced, and here are some key takeaway details. In terms of iconic moments from the original movies, both the chainsaw and and the tree rape are in there, and it's actually left ambiguous whether this is a reboot or actually a continuation of the original series, leaving open the possibility of a triumphal Bruce Campbell return somewhere down the road. The script also features a "double ending" where it's left in some way ambiguous what really just happened. Check out the link for more details. [AICN]
---
Oz the Great and Powerful
There's a photo going around that some sources are claiming is a set photo of a flying monkey from Sam Raimi's Wizard of Oz prequel. We're pretty dubious, since the "monkey" appears to be standing next to a guy dressed as Walter from The Big Lebowski, and it also appears to be a Planet of the Apes costume. You can judge for yourself at the link, but yeah... nothing to see here. [Coming Soon]
---
Snow White and the Huntsman
Universal Pictures has released a pair of new promo images, one of Charlize Theron as the Evil Queen and the other of Pirates of the Caribbean: On Stranger Tides costar Sam Claflin as Prince Charming. [Snow White and the Huntsman on Facebook]
---
G.I. Joe: Retaliation
Here's a new promo photo focusing on new stars Dwayne "The Rock" Johnson, Bruce Willis, and Adrianne Padlicki.
---
Doctor Who
Steven Moffat wrote this foreword to the Melbourne Symphony Orchestra's Doctor Who Symphonic Spectacular, which features some tantalizing hints about the fate of Amy and Rory and the identity of the Doctor's new companion:
Doctor Who's 50th anniversary is coming. In Cardiff, we're gearing up for the biggest, the best and the most ambitious season we've ever made. There will be shocks, surprises and heartbreak — the Doctor is about to say goodbye to his very best friends, Amy and Rory.

And then he's about to say hello to someone very different — the Doctor is going to meet someone very new in the very last place he could ever have expected...
---
Torchwood
Star Eve Myles discusses the show's renewal prospects, featuring one ridiculously generous appraisal of how Torchwood: Miracle Day went over:
[Torchwood is] in limbo. It went down sensationally well, better than we'd hoped. I know that Russell has put out what his situation is at the moment, so things have been on hold for a while. And that's all I know. There's no closure on it at all at the moment.

Do you think we'll see it again?
This happens every time! All the time! There was never going to be a second, there was never going to be a third...

What does your gut say?
Yes. It says that it definitely won't be 2012, I'm guessing 2013. A movie, to draw a line under it.
---
Fringe
Here's the promo for this Friday's episode twelve, "Welcome to Westfield." [Fringe Television]

And here's a sneak peek. [Fringe Television]

Finally, a brief synopsis for the episode:
THE FRINGE TEAM GETS TRAPPED
ON AN ALL-NEW "FRINGE" FRIDAY - Peter, Olivia and Walter come face to face with a mysterious and terrifying Fringe event as they get trapped in a town that there's no escaping from
Here's the description for episode thirteen, which airs February 17 and also apparently features the Fringe team getting trapped:
THE FRINGE TEAM GETS TRAPPED ON AN ALL-NEW "FRINGE" - As the Fringe team investigates a mentally ill patient who appears to be connected to a series of murders, frightening clues and connections are uncovered that lead Olivia to some shocking revelations.
---
Game of Thrones
Theon Greyjoy actor Alfie Allen offers this preview of season two:
"Basically, Jon Snow goes out into the wilderness; my character ends up going back to see his family, and a lot of dragons basically happen in the second season. I loved working with Patrick Malahide, who played my dad, and Gemma Whelan, who played my sister."
He also offers this terse description of episode nine, which depicts the Battle of Blackwater: "Fighting. Killing. Killing and fire." [EW]
---
Grimm
Executive producers David Greenblatt and Jim Kouf explain how Nick's need for secrecy will put his relationship with Hank in danger:
"Their partnership will be tested and its going to get to the point where some things are going to happen that are truly not easily explained to Hank. So we're going to push it as far as we can and hold off as long as we can."
[EW]
---
The River
Here's a new promo for Paranormal Activity director Oren Peli's new found footage supernatural horror series.

And here's a promo focusing on the audience's reaction to the show.

---
Supernatural
Here's a promo and sneak peek for this Friday's episode, which has the pants-shittingly terrifying title "Plucky Pennywhistle's Magic Menagerie." [KSiteTV]

And here are some promo photos plus a description of the episode. [TV Guide]
The Winchester brothers investigate the Plucky Pennywhistle's Magical Menagerie pizza chain in Kansas. Turns out some local children visited the eatery, drew a picture of their worst fear, and some embodiment of that fear killed their parents. As any Supernatural fan knows, clowns are Sam's No. 1 phobia, and he's left to face a couple of irate clowns while Dean (Jensen Ackles) hunts down the source of magic.
[TV Guide]
Star Jared Padalecki discusses how Sam is dealing with the dual loss of Castiel and Bobby:
Sam is all sorts of a mess. Bobby was very much a father figure to Sam, and so he certainly misses him. It's difficult for him, but Sam and Dean went through so much that Sam, especially, is like, "We've got to deal with what's on our plates now." Like, "I miss him. I'll love him. But we can't bring him back. We can't. We no longer have that option." And Sam's also dealing with a bunch of craziness in his own world – visions and hallucinations and his wall breaking down – so he almost literally cannot afford to worry about things other than just keeping his head on straight.
He also discusses what role Mark Pellegrino will have in his upcoming return as Lucifer:
Though [Lucifer] hasn't been seen on camera a lot, he's been the voice in Sam's head since the first episode [of the season], when he was messing around with Sam. Sam's just been able to hide it, but an episode comes up where Sam has no choice but to confront this voice in his head. That makes it much more difficult for Sam to then get rid of Lucifer once he has embraced his presence.

Is it going to leave Sam in a worse place?
Very much. The fact that Sam's been able to ignore him and push his scar and send him away has kept his hallucinations and his craziness at bay. But once he engages Lucifer — or his vision of Lucifer — then Lucifer almost… It's like inviting a demon into your house. Once you invite him, you can't get rid of him. So we see Sam suffer the repercussions of having engaged in his vision of Lucifer.
Finally, he says he's hopeful about an eighth season renewal:
I'm excited about Season 8. I feel like there are more stories to tell. I feel like we haven't wrapped everything up. Season 8 could be a great season. Even if we have to wrap things up in Season 8, I feel like it would be a nice last hurrah.
There's still some more at the link. [TV Line]
And here's an interview with stars Jensen Ackles and Jared Padalecki.

---
Being Human (US)
Here's a joint Syfy promo for this and Lost Girl.

---
The Vampire Diaries
Here's a bunch more promo photos for this Thursday's episode, "Dangerous Liaisons." [KSiteTV]
And here's the first round of images for episode fifteen, "All My Children", which airs February 16. [KSiteTV]
---
The Secret Circle
Here's a promo for this Thursday's episode, "Valentine."

Here are some new promo photos for episode 15, "The Return", in which guest star Joe Lando appears as Cassie's estranged father, the darkly powerful John Blackwell. [KSiteTV]
---
Lost Girl
Here's an interview with Kris Holden-Reid, who plays Dyson on Lost Girl. According to Holden-Reid, the show will be darker in the third season and explore Bo's past, in particular her father. It's not yet been decided whether the season will be thirteen or twenty-two episodes, but either way the season will begin filming in April. You can watch the complete interview below. [SpoilerTV]

---
Additional reporting by Gordon Jackson and Charlie Jane Anders.