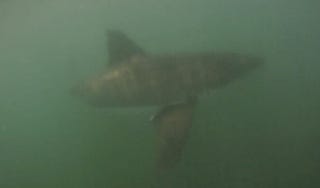 Chuck Patterson was stand-up paddle boarding when two juvenile great white sharks swam up to investigate. Luckily, Patterson had the camera on a pole....which is a little bit safer, I guess.
Here's his description of the footage:
[...] within 5 minutes a 9 ft shark came out of no where and circled twice and slapped his tail on my board before disappearing. then a minute later a 7 ft young juvenile Great White swam circles around me for 12 minutes. It was an unreal experience that I will cherish forever
Gives you chills, no?
[Chuck Patterson via The Scuttlefish]