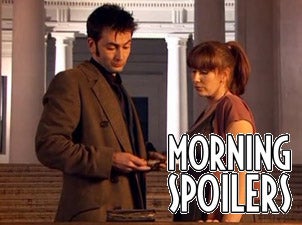 Morning Spoilers
If there's news about upcoming movies and television you're not supposed to know, you'll find it in here.
Today's spoilers include a huge Green Lantern casting call and one character who won't be in Iron Man 2. There are more lush Doctor Parnassus images. Find out whom Summer Glau's playing with on Dollhouse. Plus Fringe, FlashForward and Supernatural!

Green Lantern:
Some new casting calls for this live-action superhero film don't really contain any surprises (they're in line with the script we reviewed ages ago), except maybe for Carol Ferris being an ex-pilot. But they do give us hope the film is moving forward despite some setbacks:
[CAROL FERRIS] 26-32, a smart and attractive woman with an MBA. She started as a pilot and now runs Ferris Aircraft. She is a work-a-holic...FEMALE LEAD

[DR. HECTOR HAMMOND] 27-35, Character actor who is austere and impersonal, he is real "scummy." He is a pathologist and also the son of a Senator.

[SINESTRO] Mid-30s to Mid-40s, he is smart, tough, intimidating and in great physical shape.

[ABIN SUR] Mid-30s to mid-40s, he is a great warrior.
Iron Man 2:
Edward Norton says that to the best of his knowledge, he's not in this film. But you never know — a cameo could easily be filmed and inserted between now and its release date. [MTV via ComicBookResources]
The Imaginarium Of Doctor Parnassus:
Some new stills show just how decadent and wild this movie will really get. Nudity, dreamscapes and Verne Troyer! [IGN]

New Moon:
A new promo gives us more awesome Volturi action. Have you noticed there's a lot of mouth-breathing in this movie?

Dollhouse:
Eliza Dushku spills which Dollhouse regular gets to play with Summer Glau. And Enver Gjokaj and Dichen Lachman talk about Victor and Sierra's romance. [E! Online]
Click to viewClick to view

Fringe:
Some more promo photos from episode 2x03, "Fracture". [SpoilerTV]

FlashForward:
A casting call for episode eight introduces us to a character with an unforgettable name:
[HIGH ROLLER #2] 40s-60s, Male, Open to all ethnicities. Wealthy denizen of an upscale private gaming establishment. Finds himself quite entertaining, a Johnny Carson-type, but quick tempered when things don't go his way. Day player.
In an upcoming episode, Olivia (Sonya Walger) has to do lung surgery on a small child in a tense scene. In another scene, the main FBI agent heroes, Mark and Demetri, visit a Nazi in a German prison — he tells them he has information on the "event," but he won't spill unless he's released. [TV Guide via FlashForwardZilla]
Here's one new U.S. TV spot, plus a new Russian promo clip, and four new Spanish promo videos — just so you can get the international perspectives on this glimpse-the-future show. [FlashForward.PL and FlashForwardZilla]

Supernatural:
The title of episode 5x08 will be similar to that of a past episode. This time, it's "Are You There, God? It's Me, Sam Winchester." (Last year, it was "Dean Winchester.") [SpoilerTV]
Smallville:
The official title for episode 9x10 is "Disciple," and the Justice Society turns up in 9x11. Meanwhile, here are some new photos from the season opener, "Savior," plus a couple new pics from the second episode, "Metallo." [Kryptonsite]

Eastwick:
Another casting call — this show is looking for a few characters for its seventh episode:
[SUZY] In her early 20s, Caucasian, a pretty young thing, she is a teeny-tiny Abercrombie type. Raymond's date, she tries to make chit-chat when introduced to Kat, but is quick to feel the chill in the air...1 SCENE, POSSIBLE ONE DAY GUEST STAR (1)

[SILVER FOX-TYPE GENTLEMAN] Late 40s to late 50s. This silver fox-type gentleman and his much younger wife are perusing Roxie's paintings at a gallery showing. A self-possessed urbanite, he speaks authoritatively about the work, only to be surprised by Roxie's offbeat sales pitch and then unexpected show of temper...1 SCENE, POSSIBLE ONE DAY GUEST STAR (1)

[MUCH YOUNGER WIFE] Late 20s to early 30s. She is the Silver-Fox Type's much younger wife, seen in a splashy, tight Pucci outfit while attending a showing of Roxie's paintings. Smarter than she looks, she and her husband are equal parts appalled and amused by Roxie's strange sales pitch...1 SCENE sptv050769, POSSIBLE ONE DAY GUEST STAR (1)
And here's a new promo poster, with a catchy slogan. [SpoilerTV]

Additional reporting by Alexis Brown.