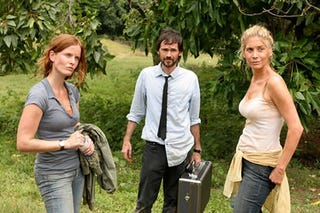 Following in Battlestar Galactica's footsteps, ABC's time-tossed island drama Lost was awarded a Peabody Award for Excellence this week. And it wasn't the only show you're familiar with that walked away with a gong.
Lost was recognized for "[b]reezily mixing metaphysics, quantum physics, romance and cliffhanger action," according to the University of Georgia's Grady College of Journalism and Mass Communication, which announced the list of award winners earlier this week. The announcement continued,
[T]he genre-bending series about a group of air-crash survivors on a mysterious island has rewritten the rules of television fiction.
I'm not sure I'd go that far personally, but sure, why not. I'm much more surprised to see a similar nod for Nickelodeon's Avatar: The Last Airbender cartoon, though: "Unusually complex characters and healthy respect for the consequences of warfare enhanced this American-made, anime-influenced martial-arts adventure," the announcement explained.
Also recognized were AMC's Breaking Bad, The Onion's Onion News Network online shorts, and the opening ceremony of the Beijing Olympics. Sadly snubbed, Knight Rider's groundbreaking portrayal of the love between one man, his ego, and his car.
'Lost,' 'Breaking Bad,' 'SNL' among Peabody winnners [THR Live Feed]