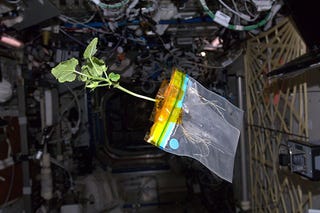 Astronaut Don Pettit personifies one of the zucchini plants aboard the International Space Station in his series "Diary of a Space Zucchini." Now New Hampshire Public Radio has given that zucchini and its existential reflections a voice.
Photo by Don Pettit.
NHPR's Sean Hurley loaned his voice to the intrepid zucchini for the station's "Word of Mouth" show. The audio segment is just a small excerpt of the entire diary, which you can read at Astrobiology magazine.
Diary Of A Space Zucchini: An Astronaut Imagines His Vegetable's Voice [NHPR via It's Okay to be Smart]