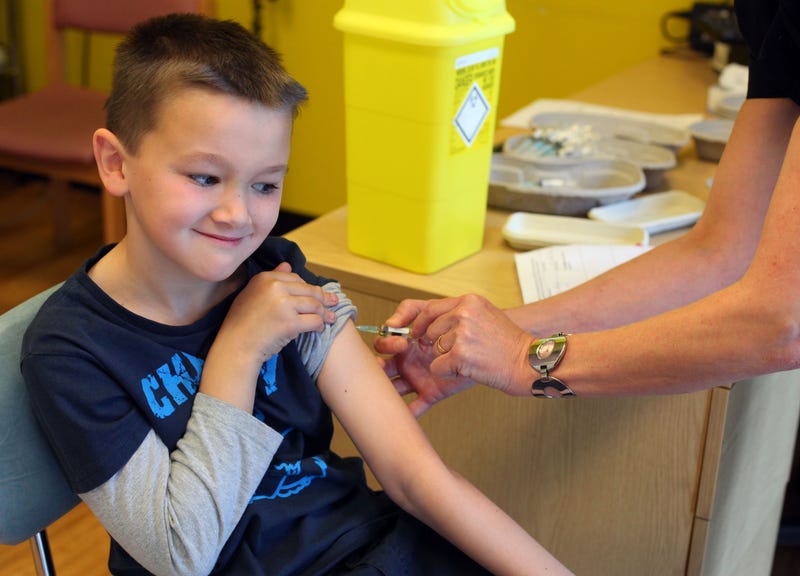 The study, the results of which are published today in the Journal of the American Medical Association, involved a cohort of nearly 100,000 children, and is the latest in a long line of research that shows no link between the measles-mumps-rubella vaccine and autism spectrum disorders.
Above: Luke Tanner, 7, receives the combined Measles Mumps and Rubella (MMR) vaccination at an MMR drop-in clinic at Neath Port Talbot Hospital near Swansea in south Wales on April 20, 2013 | Photo credit:GEOFF CADDICK/AFP/Getty Images
Children whose older siblings have been diagnosed with an autism spectrum disorder (ASD) are considered to be at higher risk of developing these conditions, themselves. The JAMA study was designed to investigate whether these high-risk children were more likely to develop an autism spectrum disorder after receiving an MMR vaccine than those with older siblings not diagnosed with ASD.

The results of the investigation – which analyzed anonymized data from 95,627 children "continuously enrolled in [a large commercial health plan] from birth to at least 5 years of age during 2001-2012 who also had an older sibling continuously enrolled for at least 6 months between 1997 and 2012" – were unambiguous:
In this large sample of privately insured children with older siblings, receipt of the MMR vaccine was not associated with increased risk of ASD, regardless of whether older siblings had ASD. These findings indicate no harmful association between MMR vaccine receipt and ASD even among children already at higher risk for ASD.

"Even for children who are high-risk, the vaccine does not play a role," lead author Dr. Anjali Jain of healthcare consulting firm The Lewin Group in Falls Church, Virginia told Reuters Health. "We don't know what does unfortunately, but it's not the MMR vaccine."