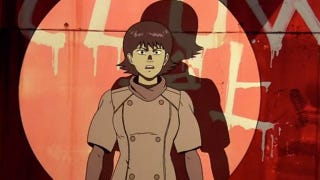 The Americanized Akira remake is rattling forward, with the blandest possible red-carpet casting. Garrett Hedlund has been offered the role of Kaneda, and now Kristen Stewart has been rumored to be up for the part of his love interest Kei (presumably because Blake Lively was busy).
Kei is a medium and a member of an underground terrorist group, and the film's female lead. The reports of Stewart's casting come via Twitch Film.
We have no problem with Stewart — in fact, we liked her quite a bit in Adventureland. But this whole casting process has just been so... uninspired. We know Akira isn't a well-known commodity and casting Stewart brings in the hungry Twilight fans — maybe — but we would have enjoyed to see a little risk taking. Perhaps some Asian actors? Or characters known for their heavy-duty acting chops — this way, you can bridge the sometimes hard-to-grasp science fiction world with genuinely brave acting, Dark Knight style.
It bears repeating: Akira is a dark tale set in a horrible bleak future world with lots and lots and lots of pain. Casting the most popular Tom, Dick and Sallys from the red-carpet circuit just seems like a bad move. This is a movie that demands a lot of darkness from its actors — and maybe these two are capable of that and we'll be eating crow down the road, but right now it just feels like glossy magazine casting.
At least Gary Oldman and Helena Bonham Carter have been offered roles, and we're huge fans the crazy these two enjoy channeling. So there's always that. In other casting news, Tetsuo hasn't been cast but Ezra Miller (We Need to Talk About Kevin) and Alden Ehrenreich (Tetro) are rumored to be the top two contenders.
Akira (based off the manga series from Katsuhiro Otomo) will now be set in Neo-New York (instead of Neo-Tokyo). It takes place in the future and follow a motorcycle gang, a secret military project and psionic psychopath powers.