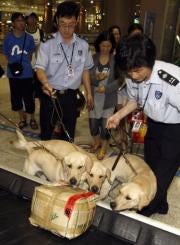 The Korean Customs Service just got six new employees: a set of Labrador Retrievers cloned from a top drug-sniffing dog. Soon, they'll be rooting out heroin smugglers, and getting a good whiff of your dirty laundry.
The canine six-pack, each named "Toppy" (short for "Tomorrow's Puppy"), were cloned from a Canadian sniffer named Chaser. Three of the dogs have reported for duty at Incheon International Airport, and the rest have been placed at customs offices in South Korean cities.
So why use clones, in lieu of dogs specially bred to sniff drugs? Customs spokesman Park Jeong-Heon said the clones simply proved superior:
They showed better performances in detecting illegal drugs during the training than other naturally-born sniffer dogs that we have.
No word yet on whether South Korea's glowing canine clone has similarly found employment.
South Korean customs deploy six cloned sniffer dogs [PhysOrg]