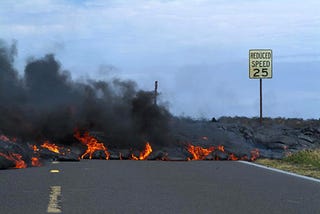 A crater on the ever-active Kilauea Volcano in Hawaii has started to spew a huge plume of ash. The recent explosion, which shut down roads in the area, may be a harbinger of even bigger explosions to come. Above, you can see what happened a few years ago when things got explodey on Kilauea. We've got pictures of the new ash plume, plus more Kilauea lava love below.
Above is a picture taken a few days ago of the ash plume. According to PhysOrg:
The ash plume, which is thousands of feet high, indicates an unknown geophysical change deep inside the volcano. Scientists also said small amounts of lava erupted from the crater Monday.

The National Park Service has closed Crater Rim Drive through the south caldera area until further notice, and people with asthma and other breathing problems were told to avoid downwind areas. USGS said the possibility of future small explosions from Halemaumau Crater cannot be ruled out.
Below, you can see a picture of Kilauea's bright red lava taken a few weeks ago.


And these gorgeous pictures, of Kilauea's lava flowing into the ocean, were taken in 2005.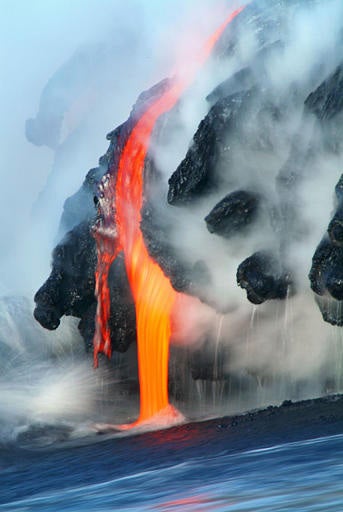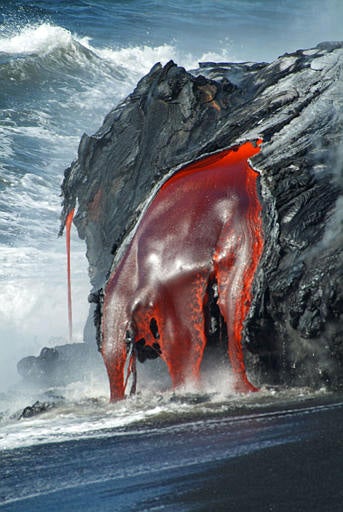 There is a major volcano research center on Kilauea, which attracts scientists from all over the world. Images via USGS and AP.
Kilauea Spews Ash [PhysOrg]