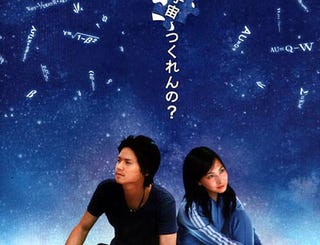 Takashi Miike, the director best known for freaky horror films like Audition and One Missed Call, is going to channel Michel Gondry with a lighthearted romantic comedy that adapts a prize-winning novel by Shinji Kimoto. In God's Puzzle, a young slacker agrees to attend his identical twin's college classes for him. And then the twins (played by Hayato Ichihara) end up teaming up with a brilliant dropout (Mitsuki Tanimura) in a scheme to unlock the secrets of everything and create a whole new universe. Click through for more pics, and the secrets of the film's genesis.
Here's how producer Haruki Kadokawa describes his decision to make the film:
Speaking to reporters at Nikkatsu on Friday, Kadokawa said he first read the 2002 novel while in prison on drug charges and that, though the theme seemed heavy, he saw 'a strong comic element in the material' that he plans to underline with 'a large helping of CG effects'.