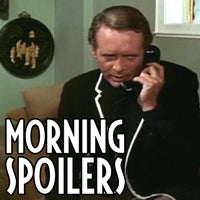 Morning Spoilers
If there's news about upcoming movies and television you're not supposed to know, you'll find it in here.
Someone's put together a detailed synopsis for Transformers 2, based on tons of leaks and set reports. There's also a new Dragonball poster, some Push images, and an exclusive behind-the-scenes video of the filming of Kick Ass. Another Lost set report reveals a shocking plot twist for Locke. And meanwhile, there are casting calls for Lost, Heroes and Joss Whedon's Dollhouse. Plus spoilers for Fringe, The Book Of Eli, Smallville, Sarah Connor and Chuck. Spoilers can help to maximize your Monday morning productivity. Transformers: Revenge Of The Fallen: This isn't exactly a leak of actual info, but someone over at the TFW2005 forums has come up with a pretty detailed summary of what he/she thinks happens in the Transformers sequel, based on leaked info and set reports. Sam goes to college, and Bumblebee is frustrated that he has to be a car all the time, and can't "be himself" with his buddy. Bumblebee almost gets caught as a robot a few times, and meanwhile Sam bonds with his new roommate. Sam starts to go wiggy, and meanwhile this hot chick named Alice starts warming up to him — and Mikaela is far away. Sam is torn! And then Soundwave, in satellite form, sends Ravage down to attack Sam's college. Sam barely escapes, and turns to Alice for comfort — but there's more to her than meets the eye. Oh noes! Sam tells the wrong person what he's seen, and winds up in a mental asylum. Sam's roommate has to team up with Bumblebee to find the other Autobots, and Optimus Prime is convinced a Cybertronian legend about "The Fallen" is coming true. The Autobots bust Sam out of the bughouse. From Sam's ravings, Optimus realizes the Fallen is on Earth, and the search is on. They team up with Tyrese, Simons and Lenox. At the Smithsonian, they meet Jetfire, a Decepticon rogue who's in hiding there, and they convince Jetfire the Fallen is the bigger threat, so he joins the Autobots. Meanwhile, there are two Decepticon factions. Screamer wants to team up with the Fallen, while Ravage wants to revive Megatron. There is lots of fighting, and Simons is killed. People realize this is super serious. And then everyone winds up in Egypt, where the Fallen is buried. Starscream, the newly revived Megatron and all the Autobots have a big fight. And then the Fallen wakes up, and everyone has to deal with it. (This doesn't explain the China scenes, nor does it explain the Paris stuff, which supposedly includes Sam's parents on vacation there.) [TFW2005] Dragonball: Here's a new Spanish poster for Dragonball. Bigger version at the link. [DBTheMovie]
Push: Are you excited by this story of superpowered youth running from the man in Hong Kong? Here are a few sexy pics to get you amped up. More at the link. [Empire]
Kick Ass: Reader Michael managed to get us some video of the filming of Mark Millar's super-violent superhero movie Kick Ass. Watch Aaron Johnson hang around in his Kick Ass outfit and then standing on a tire. [Thanks Michael!] The Book Of Eli: According to Cinemablend, this new Denzel Washington vehicle is a post-apocalyptic Western about a man who fights his way across America to protect a "sacred book" that holds the secrets of saving humanity. [Cinemablend] Dollhouse: Joss Whedon's new show about mind-wiped puppets for hire is casting two new characters for episode 7, and they may be recurring. One is Leo, a cute politically active guy with a slight Pacific Northwest nature-boy air about him. The other is Sam, an African American college student, age 20, who worked hard to get out of the 'hood and wants to stay out. [SpoilerTV] Lost: Speaking of casting, Lost is seeking someone to play Amy, a character we'll meet in episode eight, who'll appear in at least four episodes afterwards. Here's her description:
A smart, attractive and charismatic Caucasian woman somewhere between 35-42 years old. She is outdoorsy and adventurous. She is comfortably successful at her job. Her love life is complicated and a reflection of her own complex nature. She is a woman many men find attractive and she likes qualities of each of her suitors but is looking for the whole package. Other women find her funny and honest.
[Doc Arzt] Meanwhile, Lost was filming another scene involving Locke, and it looks like he gets into a car crash. Witnesses saw him standing, somewhat bloodied, and surveying the remains of his blue car. At the same time, a disused parking lot was filled with cars with Oregon license plates. All of these Locke scenes are probably from episode six, "The Life And Death Of Jeremy Bentham." [Hawaii Weblog]
Smallville: In episode 10, "Bride," Oliver thinks he's tracked down Lex, but when he goes to Cuba to find Lex, he winds up finding Lana instead. Meanwhile, Clark and Lois get closer. And Doomsday crashes Chloe's wedding and tries to kidnap her. [SpoilerTV] So what's the deal with Green Arrow exactly? Let Justin Hartley explain. [CW Source]
Terminator: The Sarah Connor Chronicles: How exactly does former FBI agent Ellison interact with Sarah Connor and her family? Actor Richard T. Jones explains: "I'm getting closer and closer, and they're trying to run from me, but I'm reeling them in like a big fish." [Sci Fi Magazine, via SpoilerTV] Here are a few pics from episode 9, "Complications." [SpoilerTV]
Chuck: Here are some pics from episode eight, "Chuck Vs. The Gravitron" and episode nine, "Chuck Vs. The Sensei." The latter batch seem to be our first look at the Awesomes, Captain Awesome's parents, played by Bruce Boxleitner and Morgan Fairchild. [SpoilerTV]
Heroes: Work on volume four, "Fugitives," is roaring ahead. Now the superpowered soap opera is seeking someone to play a computer analyst at a high security facility in episode 16. (The casting call is very specific about how tall this person should be, making me wonder if one of our heroes changes clothes with him.) [SpoilerTV] Life On Mars: How much more can this time-traveling cop show delve into Sam Tyler's childhood? A lot more! In episode seven, "The Man Who Sold The World," Sam discovers his father, Vic Tyler, might be involved in the kidnapping of a baby from a prominent family. Plus Sam discovers a dark secret about his own childhood. [SpoilerTV] Fringe: Olivia actually demands to go back into the tank in the hopes of stopping Agent Scott from appearing to her any more. [TVSquad] And here's a new trailer for the next episode. [Fringe Television]
Oh, and here are some preview pics from episode eight, "The Equation." [SpoilerTV]