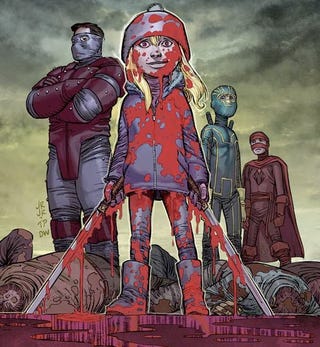 Maybe if Kick-Ass kept in the Kick-Ass and Red Mist "groupie sex" scene, the film would have done a tad better at the box office? Find out what got left out, and how these teenage superheroes treat their greatest fans.
In an interview with MTV, Kick-Ass director Matthew Vaughn talked up the 18 minutes of additional scenes that would be included in the "director's cut" of his film:
Three Hit Girl and Big Daddy scenes, and the funniest groupie sex scenes, with Red Mist and Kick-Ass. Basically behaving like Mötley Crüe with two girls.