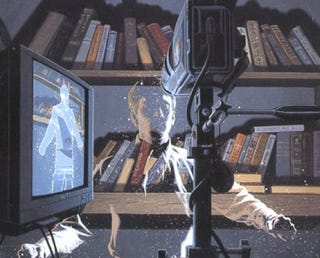 Jumper may have made $30 million at the box office this past weekend, but the original book has been out for more than 16 years, and they don't bear much resemblance to each other except for the main character's name and the teleporting. In fact, once the book was optioned and turned into a movie, author Steven Gould wrote a third Jumper novel (the second was Reflex) called Jumper: Griffin's Story, and it's meant to be much closer to the movie. Interestingly, on the publication page inside this third book, you'll find the words: "The character of Griffin O'Conner copyright 2007 by New Regency Films." Ah the tangled web of copyright. We decided to read the original book and compare it to the movie, and you can check out the differences in our spoiler-laden list below. Here's one spoiler we don't mind sharing with the world: The original book is better than the movie.
David (Davy throughout most of the book) is 17 when he starts teleporting, and 19 when the book ends. In the movie, he goes from age 15 at first teleport, to 25 in the blink of an eye. So much for those formative years.
There's a lot of clumsy dialogue in the book. It was Gould's first novel, which could account for some of it, but when Davy gets asked he doesn't want to dance with a hoochie mama at a college party, his response makes us cringe: "I feel foolish. You know what you're doing out there. I feel like a clumsy jerk. The contrast is painful. I'm shallow, I guess, but I don't want everybody to know just how shallow."
Davy may be young in the novel, but he starts dating Millie who attends college in Oklahoma pretty easily, despite their age difference. In the movie, she's a childhood friend who dates the Flash Thompson jock-type asshole. Shades of Mary Jane and Spidey.
When he needs to kill time in the book, Davy jumps to Disney World and hops on the attractions. Star Tours is his favorite. In the movie, Davy kills time by boning bar floozies, surfing, and having lunch on the head of the Sphinx.
In the movie, David robs a series of banks and other locations to finance his free-wheeling lifestyle, but in the book he only robs one bank, which nets him close to a million dollars. He lives fairly frugally off of it, since he has close to 800k left near the end of the book.
David lives in a sleek highrise in the movie, but in the book he has a fairly modest apartment tucked away in a ghetto. He's put in a secret closet to hide his money, and Gould perpetually mentions his "25 inch television." We're assuming that in 1992 that was considered "big."
In the novel, David jumps to the Stanville Library during his first couple of teleports, but Davy continually returns here throughout the novel where it serves as his "safe" place that he'll revert back to when in danger.
There are no jumpscars or miniature sonic booms when Davy teleports in the book, unlike the movie. In fact, he doesn't make a sound at all when he leaves. Millie videotapes him doing it, and they have to slow the tape down to frame by frame to even see anything happening. At that point, you can vaguely see through him and into wherever he's going to or coming from, but only for a single frame. Having said that, the visual effects of jumping in the movie were pretty damned awesome.
He also doesn't carry his momentum with him when he teleports in the novel. In the movie, he'd stay fairly within the laws of physics and stay in motion, but the book nullifies that. In fact, he steps off of many ledges, plummets down, and will jump away just before hitting bottom without any ill effects.
Davy is the only jumper in the novel, whereas in the movie we're shown at least three of them. Including one with much more skill than David has.
In the movie a group of mysterious agents called Paladins are tracking the jumpers, but in the book it's just the NSA.
In the movie the Paladins use devices called "tethers" that utilize electrical shocks and pulses to keep a jumper pinned down. In the novel, they try tranquilizer darts and homing harpoons.
David's swank apartment is nice in the movie, but in the book once Davy is found out, he builds a remote hideaway in a rocky fortress of solitude in Texas. It's completely walled off and looks like a part of a rock formation.
In the book, Millie trains Davy to jump to the emergency room whenever she says "Bang," in an effort to keep him from getting seriously hurt. He has to jump whenever she says it, even if he's naked or going to the bathroom. Talk about cruel tricks being played on you by your girlriend.
In both the novel and the movie, Davy and David record "jumpsites" by physically visiting places. They can't just look at a photo and teleport until they've actually been to the place. David in the movie prefers acres of photos, but Davy uses racks of videotapes. Novel Davy can also spot a place using binoculars, and then immediately jump there.
Davy's mom leaves in the book, just like in the movie, but it's only to get away from Davy's abusive father. Shortly after Davy reunites with her, she's blown up by a terrorist on a hijacked flight. Davy soon devotes all of his efforts to avenging her death.
Novel Davy is much less of a pussy then Movie David, breaking terrorist's bones and dropping them off of ledges into a pit filled with water. However, he cries at the drop of a hat. Hayden-bot probably has no tear glands.
I cannot fucking stand the covers of mass-market movie tie in paperback books. I know the marketing department wants people to go "Oooooh! Bruce Willis is on this cover! Bruce Willis must be in this book!" and buy it, but I can't stand movie covers on my books. I bought this in the lame-o Christensen on the Sphinx cover, but then found the older copy and traded it in later. Phew. How's that for trivia?
If you enjoyed (or think you might enjoy) the novel Jumper, then check out Fade by Robert Cormier. It's about a boy who discovers he can turn himself invisible. Sweet!