This month, we've got A Song of Ice and Fire's long-awaited fifth installment, Charles Stross' Rule 34, and the latest edition of the Dresden Files, plus time travelers and detectives!
Illustration by ALBERTO SEVESO.


Dance with Dragons, George R.R. Martin (Bantum)
G/O Media may get a commission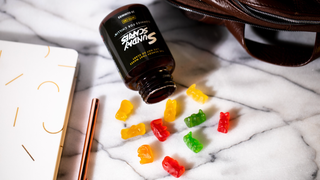 10mg CBD Gummies (22-Count)
Cancel your appointments and set away messages on your email: After years and years (AND YEARS) of delays, Dance with Dragons is finally here. Some thought this day would never come, but the reviews are out and they're pretty great. We return to Westeros to see Jon Snow facing off with the icy hell-creatures from beyond the wall, while across the Narrow Sea Daenerys Targaryen attempts to consolidate power and suppress her enemies. Our review is here.

This Shared Dream, Kathleen Goonan (Tor)
Goonan's follow up to her award-winning In War Times returns to the Dance family — this time, taking up the story of Sam and Bette's children. Their parents saved the world; they were left behind with memories of a past that doesn't quite match reality.

The Hell Ship, Philip Palmer (Orbit)
The Hell Ship is crammed full of slaves, each taken from homes and planets now destroyed by the crew. But two men are determined to fight back. One, Sharrock, is a prisoner intent on rebellion. The other, Jak, follows behind in his own ship, equally determined to exact vengeance.

Heart of Iron, Ekaterina Sedia (Prime Books)
Sasha Trubetskaya lives in an alternate Russia, one where the Decembrists pulled off their revolution. To prove a point in the ongoing feud between her aunt and the emperor Constantine, she's one of the first women enrolled in university. In the midst of banging her head against the brick wall of chauvinism, she realizes that Chinese students are going missing. Turns out there's a plot afoot to land Russia, England, and China in a war, and so she joins forces with Jack, a British student. Their antagonist? Florence Nightingale, appearing as a villainous spymaster.

Flashback, Dan Simmons (Reagan Arthur Books)
Simmons's latest is set in a crumbling, near-future United States. The vast majority of the public is addicted to a drug enabling them to dwell inside their best memories — aptly named flashback. Among them is Nick Bottom, a once-promising detective who's trashed his entire life on the stuff. Even so, he's still got the skills, and so he's hired to investigate the murder of a top government functionary's son.

Rule 34, Charles Stross (Ace)
As the boss of Rule 34 Squad, Detective Inspector Liz Kavanaugh keeps an eye on the Internet to make sure everything's on the up and up. But it's not exactly a swift route to advancement, and when she starts investigating a spammer's murder, things just get worse. Kavanaugh lands in the middle of some seriously sketchy business, and her superiors don't seem too interested in hearing about it.

Ghost Story, Jim Butcher (Roc)

The thirteenth Harry Dresden novel finds our protagonist knocking around Chicago in less-than-corporeal form. That puts him in a position rather like a cop in jail — no magic, few ways to defend himself, and lots of angry specters after him. But this is Harry Dresden, and so he's not going to let that stop him from protecting his friends.

Vortex, Robert Charles Wilson (Tor)
Robert Charles Wilson concludes the trilogy he began in Spin with a novel that toggles between a dystopian 21st-century Earth and a far-flung planet ten thousand years in the future. Connecting the two is Turk Findley, who was introduced in Axis. He's now in the company of a pack of zealots called the Vox, trying to unravel the enigma of the time-traveling Hypotheticals.

Ghosts of War, George Mann (Pyr)
The Ghost is back, investigating a flock of giant, metal, batlike creatures terrorizing the city. He finds himself up against a mad military scientist who hopes to foment war with Britain. So he joins forces with a British spy and an ex with a drinking problem to stop him.

The 7th Sigma, Steven Gould (Tor)
In this envisioning of a scifi frontier, metal-eating bugs have taken over the Southwest completely. They're implacable machines, powered by the sun and capable of replicating themselves. And so anyone who wants to live in their territory has to do without and adapt accordingly. That breeds a tough bunch of people, including our protagonist Kimble Monroe.

And finally, this month also brings Spell Bound, book 12 of Kelley Armstrong's Otherworld series; Troika, a new novella from Alastair Reynolds; Heartless, book 4 of Gail Carriger's Parasol Protectorate; The Final Evolution, book 5 of Jeff Somers's Avery Cates series; and Millennium People, a newly released posthumous novel from J.G. Ballard.