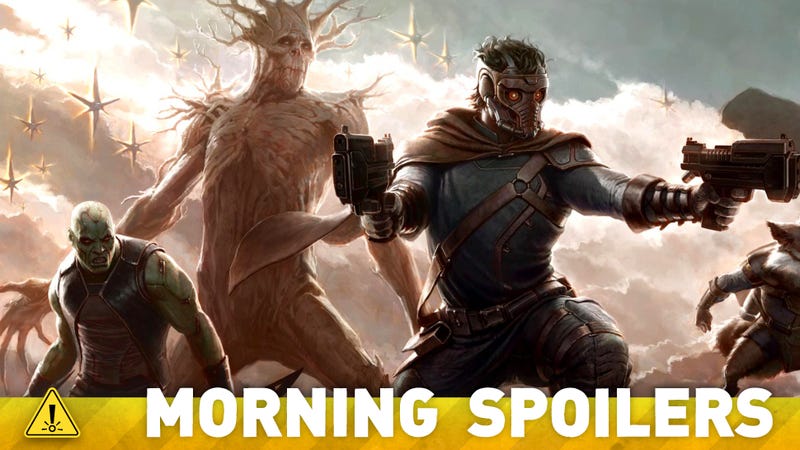 And he's not the only awesome actor who might be joining Marvel's space opera. Check out set photos for The Amazing Spider-Man 2 and Dawn of the Planet of the Apes. Gwendoline Christie discusses Brienne's journey on Game of Thrones. Stand by for spoilers!
Top image from Guardians of the Galaxy.
Guardians of the Galaxy
James Gunn's Marvel space opera might be closing in on some more key stars, and one of them could be the man behind Dewey Cox, Dr. Steve Brule, Chest Rockwell, and Wreck-It Ralph: the one, the only John C. Reilly. Acting's most lovable (and talented) goofball is reportedly in line to play Rhomann Dey, with his role described as "the Agent Coulson of the 'Guardians' movies... the human agent who serves as a go-between, keeping the Guardians in line and reporting to SHIELD about their activities." That sounds like it could be a fairly significant departure from the character's comic book history as the Nova Corps leader from the planet Xandar, but if Marvel is keeping a fairly alien name like Rhomann Dey at all, then there's probably a bit more going on here than just a human agent, even if he is touted as "the primary face of normal humanity for the 'Guardians' films." Anyway, Reilly has reportedly been offered the role, and he better take it, because — and no disrespect to Woody Harrelson here — I'm still a bit bummed he didn't end up playing Haymitch Abernathy in the Hunger Games movies, as was briefly rumored.
This is just detail of a much larger report on the state of the story from Hitfix, which is well worth reading here. The story suggests that Michael Rooker's character Yandu won't necessarily be a founding Guardian at all, but rather a space pirate and at least one of the movie's main villains. We'll send you over there for the rest of the story-related news, but there's another casting rumor to highlight. Rhomann Dey would reportedly be joined by "a peer, someone who is their liaison for the Guardians." The contenders for this role include Hugh Laurie, Alan Rickman, and Ken Watanabe, so basically as long as you're an awesome actor over 50 who oozes a certain badass gravitas, then Marvel Studios would like to talk to you. Check out the link for plenty more. [Hitfix]
---
The Amazing Spider-Man 2
We already showed you photos of Paul Giamatti's somewhat unusual-looking Rhino costume. But also in the same batch of images were some pictures of Spidey with a little kid wearing a Spider-Man costume. Check out some more here, and even more at the link. Photos by Getty Images. [Superhero Hype via Coming Soon]
---
Game of Thrones
Gwendoline Christie discusses the relationship between Brienne and Jaime, starting with her recent goodbye to him:
In that moment, she recognizes him as a man rather than a monster. I'm so pleased that that came across, that she wants to give him the respect that she feels that he deserves, to be recognized as a man and worthy of the title of "Ser" as well. I don't think he's experienced that for a very long time. Brienne is very focused on a moral code, on the good of the world around her and what is right. But in their bathtub scene, she recognizes his humanity, and his own struggle with what it is to be honorable. She's also seeing something of him in her – she's seeing his striving for the good of all, to an extent. It's a revelatory moment. It really expands Brienne's mind, shows her not to regard everything as being quite so black and white. We start to see the complexity of a person's mind developing.

Nikolaj [Coster-Waldau] described Jaime's time with Brienne in much the same way. She's shown him something outside the closed systems of the Lannisters and the Kingsguard.
They're quite similar people in terms of their psychology and their lives. They found a kind of symmetry, somehow. A kinship. Brienne has certainly never had a relationship with a man like Jamie. I mean, in terms of physical proximity and what they share emotionally, this is the closest she's ever been with any man that she's not been related to certainly, but probably with any man, full stop. For the pair of them, there's a moment of enormous expansion where everything they've regarded as normal and set in stone prior is changed, and there's a multitude of possibilities.
She also looks further afield at the possibility of the romance between the two characters:
Do I think they will get together? [Laughs] I mean, it's very . . . The world of Game of Thrones, the world that George R.R. Martin has created and that Dan [Weiss] and David [Benioff]'s translation adapts brilliantly, is a world that's never straightforward. I genuinely have moments of absolutely no idea. I don't even know if I want them to, because what they're experiencing is a bond that is quite unusual and quite pure bond. He did come back and save her life, which is enormous. I think it makes us examine a lot of possibilities and angles of what love is, and what love makes us capable of. And Brienne is a virgin and Jamie has only slept with his sister, so . . . [Laughs]. We're looking at two highly unusual individuals. I don't think that anyone genuinely can predict the way in which their relationship will go in any regard. Genuine and true love is so rare that when you encounter it in any form, it's a wonderful thing, to be utterly cherished in whatever form it takes.
There's still more at the link. [Rolling Stone]
---
Under the Dome
Here's a short synopsis for episode three, reportedly titled "Manhunt":
At a "recharge" party at Joe's house (Joe's got a generator), Carter acts like a jerk, and Big Jim and Barbie search for Randolph.
---
Teen Wolf
During a recent panel at London's MCM Expo Comic-Con, a quartet of Teen Wolf actors discussed what lies ahead for their respective characters in season three. First up, here's Daniel Sharman on Isaac:
A lot changes, he goes through a bit of development of what was happening at the end of season two, deciding which side to ally himself with, which set of morals. It's some great writing so thanks Christian Taylor and Jeff Davis.
Next, Holland Roden on Lydia:
I would say Lydia ended season two on a bit of a high note where her boyfriend has been saved, and in season three she thinks she's over her boyfriend, you know how you think you're over a guy and convince yourself you are. I would also say that she's a true detective this year. She gets to have more interaction with Styles and Alison, and just sort of brings down the walls, becomes a bit more of a normal girl.
And now, Crystal Reed on Alison:
Well let's see, at the end of season two, Alison and Scott broke up, so she takes a summer away with her dad, sort of figures everything out and comes back. They decide that she should just try and be a normal teenager. Of course, Alison can't help herself when she knows something bad's going on, so she kind of gets involved again without anybody knowing. She's trying to be a normal teenager on top of all that.
Finally, Tyler Hoechlin on Derek:
In the first season Derek was pretty focused on revenge, then in season two he thought he was really cool for some reason, being the alpha. Season three is a little humility for Derek – season two didn't wind up too well for him, he's in a lot of trouble. There are a lot of problems that Derek's going to have to face going into season three, and he may just end up digging his hole deeper and deeper. The relationship with Scott is a little different this season too, it's much more of a kind of brotherly, mutual admiration type thing, he's found a respect for Scott so there's a big difference in that relationship.
There's still quite a bit more at the link. [Collider]
---
Hemlock Grove
Ted Sarandos, Netflix's chief content officer, discusses the prospects for more of the service's Eli Roth-created horror series:
Hemlock is much more polarizing; you either love it or hate it. The crossover for the people who love the show was American Horror Story, not The Vampire Diaries. It was incredibly popular in the Nordics because of the popularity of the Skarsgards [Bill Skarsgard stars] and in Latin America, where the horror genre is very big.

Will you renew it?
We're hearing the pitches for the second season with plotlines and storylines now.
---
Additional reporting by Amanda Yesilbas and Charlie Jane Anders.