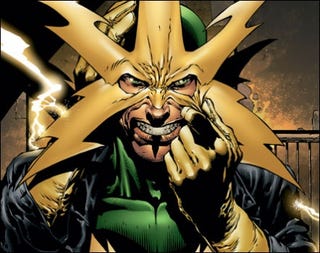 Has Marc Webb found yet another character to add to Amazing Spider-Man 2? The Spidey sequel has already cast Mary Jane Watson, they're looking for a Harry Osborn, and everyone suspects the Green Goblin, Norman Osborn, will also be making an appearance, thanks to the post-credits jail scene in the first film. But if you watched closely, lightning was also featured prominently during this extra scene. Which directly correlates to this new bit of casting news.
According to Collider, Django Unchained's Jamie Foxx is in line to play Electro! Electro, the villainous electrical engineer who acquired superpowers after he was struck by lightning. This lines up quite nicely with the lightning hints the first film. Talking to Collider, Webb revealed why he wanted this particular villain:
"I think Electro is an incredibly visual, exciting, dangerous villain. There is a lot of appealing stuff that is going to happen as the world emerges."
Can't wait to see if he keeps the mask.