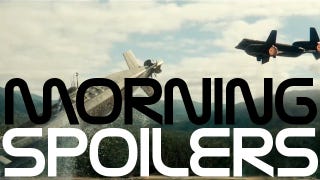 Morning Spoilers
If there's news about upcoming movies and television you're not supposed to know, you'll find it in here.
Star James McAvoy explains Professor X and Magneto's love story in X-Men: First Class. Writer Don Payne discusses the difficulties of Thor. Is the Doctor's old friend returning? Plus a first look at James Franco in Rise of the Apes!
Spoilers from here on out!
X-Men: First Class
James McAvoy explains how the young Professor X and Magneto share an almost romantic bond, and how Charles Xavier isn't yet the saintly figure he later becomes:
It's kind of a love story, like "Butch Cassidy and the Sundance Kid," which, really, was a love story between two men. This is the first time in their lives they've met someone who is an equal of sorts, someone who understands them and can connect and push them too. Especially Charles, he's fascinated with Erik and his potential. For Erik, Charles is the first person he's trusted to really tell about his past and the first person to understand the horrible things he's been through.

Charles is caught up in himself. He enjoys success and is proud, and he's not the selfless person that he becomes. You look at the relationship with Raven – who becomes Mystique – and you examine that relationship and the way he treats her like a living experiment. She's an assistant to him and he cares for her, but there's his ego and condescending big-brother attitude as well. You see it in the way he treats the others. In the "later" movies, he's exorcised that from his personality. For me, trying to keep that ego as an underpinning of the character is important.
There's more at the link. [Hero Complex]
---
Thor
Screenwriter Don Payne explains why Thor is a tougher superhero to write than most:
Well, I think the challenges are pretty apparent. As you say, Thor's a unique character, and it's an unusual story we're telling. When you've got something like Captain America, the premise is easier to get right away - he's a superhero fighting Nazis in World War II. Whereas we've got an extra-dimensional being once worshipped as a god by the ancient Norse who's banished to earth and stripped of his powers to learn humility, all set amidst the Shakespearean intrigue of a dysfunctional royal family. It's not as simple to grasp.
The answer, according to Payne, is to cut to the heart of the character and find the core that people can relate to:
You just have to find the things that make Thor timeless and relatable as a character. It certainly helps that he's charismatic and likeable, albeit flawed. He's banished for good reason, but I think people will want to go on the journey with him and root for him to find redemption - particularly with Chris Hemsworth's performance.

I think what really makes Thor relatable are the family relationships. There's a lot of dysfunction in the House of Odin. Thor's got a hard-ass father and a jealous brother. But for all of Thor's hardheaded rebelliousness, he, like Loki, is really just trying to live up to his father's expectations and make him proud. I think people can relate to that father and son dynamic.
There's more at the link. [Chud]
---
Battle: Los Angeles
Neil Brown Jr. describes his character and how he and the other actors interacted with the movie's aliens:
I play Richard "Motown" Guerrero, a sharp-shooting, shit-talking "Son of Bitch." Irony is that he's the best shot in the platoon, much more like a sniper but he carries the SAW M249 which is more high volume instead of one well placed shot. It's heavy as hell too! But that's the character; he always bites off a little more than he can chew but somehow gets it done.

At times there were very tall stunt men running around in costume for reference, but most of the time it was good ole pretend.
There's more at the link. [The HD Room]
---
Rise of the Apes
Here's a first look at James Franco in the Planet of the Apes prequel. [ComingSoon.net]
---
Wrath of the Titans
Battle: Los Angeles director Jonathan Liebesman is taking on the Clash of the Titans sequel next, and he has revealed the film, like its predecessor, be shot in 2D and then post-converted to 3D. However, this time around the movie will be shot with 3D in mind, so the conversion won't be as epically shitty as the one for Clash of the Titans (my words, not his). Anyway, the movie is set to start shooting in ten days, and here's how he describes it:
"It's going to be a much more natural gritty, grounded fantasy movie. Just think 'Gladiator' with lots of creatures, I'm excited. It's a good opportunity to do something awesome with some great actors in a great genre."
[Cinematical and ComingSoon.net]
---
Hansel and Gretel: Witch Hunters
Fargo and The Big Lebowski actor Peter Stormare has reportedly joined Jeremy Renner and Gemma Arterton in the gritty update of the Brothers Grimm tale. He is reportedly playing a corrupt town sheriff named Berringer. [Deadline]
---
Doctor Who
A tweet claims that James Corden will be shooting scenes next week, making a return appearance as "The Lodger" character Craig. Now, this is a totally unsubstantiated rumor, but it would fit in with the clip from the trailer that showed a lookalike for the time machine seen in "The Lodger." Anyway, take this with a grain of salt until we hear more. [Doctor Who Spoilers]
The rumored start date for series six is Saturday, April 23, with the second episode of the opening two-parter supposedly airing the next day. [Anglotopia]
---
Fringe
Executive producers Jeff Pinkner and Joel Wyman explain the coming obstacles for Peter and Olivia:
Wyman: The next couple episodes are going to be very surprising. A big unexpected obstacle is going to come between them...for a while.
Would this be Bolivia's alterna-baby?
Pinkner: Nope. Really unexpected...new to you.
So how long will you keep Peter in the dark about Bolivia's pregnancy?
Pinkner: Perhaps until next season.
Wyman: Yeah, we're thinking about maybe holding it off.
Seriously?
Wyman: There's a good reason for it. We can't tell you now, but we're trying to do something now that nobody's ever done and we're excited for our season finale. It's something we're really excited about.
Pinkner: And it's still seven episodes off.
Wyman: And because of this, we may have to hold it off.
There's more at the link. [TV Guide]
Alt-Broyles may be dead, but the alternate Fringe division will eventually find about his death — and as Jeff Pinkner explains, "Olivia's commitment to him is going to come back into play." [TV Guide]
---
True Blood
Allan Hyde will be back as vampire sheriff Godric, in a role that executive producer Alan Ball says will show "a different side of Godric." [TV Line]
---
The Walking Dead
Guillermo portrayer Neil Brown Jr. talked about this season and the next, sort of implying that he might be back. Yeah, this one's a little tenuous:
I truly love playing Guillermo, leader of the Vatos. I have to thank AMC and Frank Darabount for giving me the opportunity. I can neither confirm nor deny anything about the show at this time though besides that the new season is shaping up to be AMAZING! From what I've heard, of course.
---
The Event
Here's a sneak peek and behind-the-scenes look at episode 12 "Inostranka." [SpoilerTV]
---
Supernatural
Series writer and Tick creator Ben Edlund will be writing and directing episode 20, "The Man Who Would Be King." [Staying In With Vlada]
---
Stargate Universe
Here's a promo for season 2.5. [SpoilerTV]
---
Being Human (UK)
Here's a description for episode 8, "The Wolf-Shaped Bullet." [SpoilerTV]
Following Nancy's investigation into the Box Tunnel massacre, Mitchell finds himself trapped by the police, in the gripping final episode of the award-winning drama. Desperate to escape, Mitchell discovers that help is at hand – albeit from an unlikely and untrustworthy source.

Annie is heartbroken but stands by Mitchell and returns to purgatory in search of answers. She finds Lia but things are not as they seemed. This was never a game to Lia – this is revenge. A guilt-stricken Mitchell tries to make amends but, as the revelations pile up, and with Nina in a critical state, George must decide whether he can stand by his best friend.
---
Additional reporting by Katharine Trendacosta and Charlie Jane Anders.