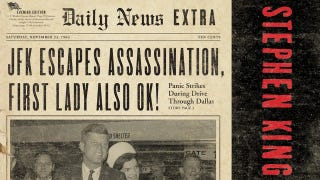 It's official: Stephen King's 11/22/63, about a man who is able to travel back in time and attempts to prevent the assassination of President John F. Kennedy, is going to become a series. But instead of coming to a TV set near you, the series will stream on Hulu.
There have been rumblings for a while that J.J. Abrams' production company Bad Robot has been looking to option 11/22/63, and Hulu has announced today in a press release that it has ordered a series based on King's book from Bad Robot. Bridget Carpenter, who served as a writer and co-executive producer on Friday Night Lights and Parenthood, will also serve as the writer and executive producer on 11/22/63.
"If I ever wrote a book that cries out for long-form, event TV programming, 11/22/63 is it," King writes in the press release.
For folks unfamiliar with the book, 11/22/63 follows Jake Epping, an English teacher who learns one day that his friend Al has a portal that can transport people back to 1958. Al convinces Jake to take up his life's mission and prevent Lee Harvey Oswald from assassinating JFK, and so Jake lives in mid-century America while he tries to fulfill Al's wish.
TV adaptations of King's work can be very hit and miss, but hopefully Carpenter and Bad Robot can make this one worth watching.
Stephen King's Best-Seller 11/22/63 Finds its Place in History With Direct-to-Series Order from Hulu [Hulu]