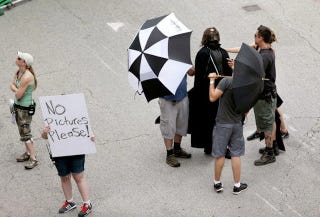 Captain America 2: The Winter Soldier is currently filming in Cleveland, and apparently the Cleveland Plain Dealer cares not for Marvel Studios' polite "no pictures" request. The first unofficial look at Sebastian Stan as Bucky-turned-bad guy is here!
Note for anyone worried about spoilers: Not only does Winter Solider look almost exactly like he did in the comics and in this movie concept art, but the pic was also taken from quite a distance, so I don't think this is the biggest spoiler in the world. Anyways, without further ado...
The Cleveland Plain Dealer has more set pics here, which mostly include a van blowing up and more hilariously dickish shots of the poor guy holding up the "NO PICTURES PLEASE" sign. Thanks to Ryan M. for the tip!