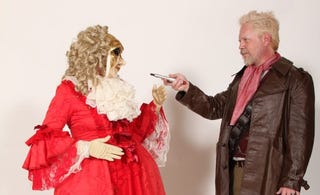 Different Doctor Who characters converging from all of space-time, the finest set of costumes in all of Westeros, and more are all on io9's Halloween Costume Show! Come add yours to the mix.
Whether they're still in progress or just waiting for the right moment in the season, post pictures of your Halloween costumes (please post pictures of yourself only), along with a note about how you put the costume together. The best will be featured on io9.
Still looking for inspiration? Check out some of our favorites already submitted for this year.
Commenter ColemanSensei is plotting something. Could it be the perfect Littlefinger Costume?
Or perhaps it's this group shot, also featuring Arya Stark and The Hound (a.k.a. commenter largerthanlife).
This meeting between commenter Six8ten as the classic Universal Frankenstein's Monster and Chibatman on the streets of Chiba is the crossover we deserve:
Just what series of events conspired to bring this 18th-century Clockwork Droid (a.k.a commenter azyre) together with the War Doctor?
Commenter Pikapool's costume is just like it sounds: Part Deadpool, part Pikachu — and it comes in two colors: